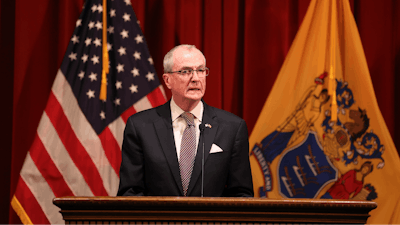 Edwin J. Torres/NJ Governor's Office
New Jersey Gov. Phil Murphy said Wednesday that the state is "within weeks" of allowing medical dispensaries sell recreational cannabis.
Although the state missed Murphy's self-imposed Tuesday deadline, he predicted swift changes.
"If I had to predict ... I think we're within weeks," Murphy said in an interview with WGBO. "I would hope in March, you're going to see explicit movement on some medical dispensaries being able to sell recreational."
According to Murphy, the dispensaries will have to prove that they can fulfill demand for medical customers before selling to recreational users.
Soon after medical dispensaries are given the green light, Murphy envisions standalone retail adult-use cannabis operations will begin selling to eligible customers 21 and over.
Murphy added that the process has been more difficult than he expected, but he said that equity is an important part of the process and he wants to make sure that the state gets it right.
"There is no question, this is an industry that will have a significant presence in New Jersey," Murphy said.