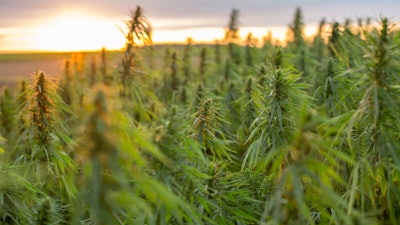 iStock
One hundred years ago, Wisconsin was second in the nation for growing hemp. Grown mostly for its fiber and cannabidiol (CBD) oil, hemp is used to make rope, fabrics, plastics, medicines, health products and construction materials.
While growing hemp was banned in 1970 under the federal Controlled Substances Act, it has restarted in recent years through Wisconsin's industrial hemp bill. This allows licensed growers to produce and process hemp that has a concentration of less than 0.3% of tetrahydrocannabinol (THC), a psychoactive compound.
Research at the University of Wisconsin-Stevens Point could help make this a bigger comeback. Ten students and four faculty advisers in biology, chemistry and natural resources are collaborating to show how hemp could once again be a major crop – one that not only generates revenue for Wisconsin farmers but has positive effects on the environment.
"Our research is focused on using hemp for phytoremediation - the removal of toxins from soil," said Brian Barringer, an associate professor of biology in the College of Letters and Science and co-adviser on the project. "The hemp plants take up the pollutants, allowing it to grow in soils that contain heavy metals such as lead or arsenic. This would diversify agriculture in Wisconsin and allow farmers to clean up the environment while making a profit."
"Hemp has an insane amount of uses and could become a more traditional crop," said Sophia Risch, Kimberly, a senior biology and natural resource planning major who is the senior member of Barringer's lab and a researcher on the project. An acre of hemp can produce more textiles than four acres of forest, she said. It grows fast, making it a more sustainable and profitable resource.
"Globally, one-third of soil is polluted, and in Wisconsin there is an issue with soil degradation and lack of nutrients," said Risch. Hemp grows even in poor quality soil.
Barringer has a license to grow the plants, which he is also using for another research project on wild hemp growing in Wisconsin. Co-adviser Bryant Scharenbroch, associate professor of soils and waste resources in the College of Natural Resources at UW-Stevens Point is collaborating on both projects.
Last fall, students and faculty began growing seedlings of Colorado Cherry Wine, a variety of hemp commonly grown for CBD production, then transferred them into soils treated with different concentrations of lead, arsenic and fertilizer to discover how these conditions affected the plants.
"Students were involved in every aspect of the work, from the original conception of the experiment and overall study design to its execution and interpreting the results," said Barringer.
Throughout the last two semesters, students have been caring for and analyzing the plants as well as measuring the pH and electroconductivity of the soil, rates of photosynthesis and chlorophyl production. The student researchers helped quantify the production of both CBD and THC in the flower tissue, and to what extent the plants took up and sequestered the lead and arsenic in their tissues. They are also analyzing and interpreting all of the data and producing a poster that summarizes their research.
Assistant Professor Shannon Riha, chemistry, assisted with a process called high-performance liquid chromatography (HPLC), which separates compounds of the plant and identifies individual components such as CBD and THC. Assistant Professor Ann Impullitti, biology, helped with aspects of plant physiology. Both are co-advisers on the project.
Risch enjoyed working on a project that brought students and professors from two colleges together, she said. "We need each other and our different perspectives. Our professors bring a wealth of knowledge to the project and having 10 students with different backgrounds helped the research go faster and more efficiently while expanding our learning."
"The results of our work will inform future directions for research focused on this economically important and environmentally friendly crop," said Barringer. "This pleases both sides of the political spectrum in the state and has bipartisan support."
The research will be presented at Research in the Rotunda on Wednesday, March 9. Held at the Capitol in Madison, the annual event highlights the work of students across the UW System and gives them the opportunity to share it with legislators.
It's also an opportunity to share the possibilities of expanding hemp agriculture in Wisconsin, Risch said.
"One of the critical aspects of research is to show people what you are doing and hopefully make positive changes," she said.