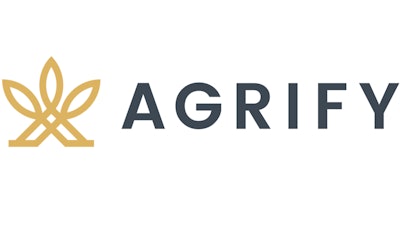 Agrify/GlobeNewswire
BILLERICA, Mass. -- Agrify Corporation, a provider of premium cultivation and extraction solutions for the cannabis and hemp industry, announced Monday that it has entered into a debt financing agreement for up to $135 million in a Senior Secured Note facility with an institutional lender.
The proceeds will be used for working capital and general corporate purposes.
An initial funding of $65 million under the note will be immediately available to the company at an initial closing with the option for the company to draw down the remaining $70 million available in two subsequent fundings of $35 million each, subject to the satisfaction of certain funding conditions.
"We continue to see tremendous interest and enthusiasm around the Agrify Total Turn-Key (TTK) Solution program, which is the key driver behind us having over $500 million in carefully vetted sales opportunities in our total qualified pipeline," said Raymond Chang, chairman and CEO of Agrify. "This debt facility further validates our TTK program and offers us the immediate balance sheet leverage to fund our continued growth. As we establish additional TTK partnerships, we believe our high-margin recurring production and SaaS revenue streams will provide us with increased financial leverage, allowing us to create more meaningful, long-term value for our shareholders."
A.G.P./Alliance Global Partners is acting as sole placement agent for the financing, and Burns & Levinson LLP is acting as the company's legal counsel. See more details here.