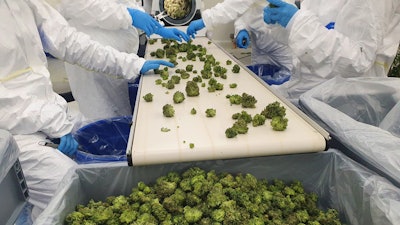 Business Wire
Medical cannabis company Akanda has entered into a definitive agreement to acquire 100% of the issued and outstanding shares of Holigen Limited from The Flowr Corporation. The proposed acquisition will significantly accelerate Akanda's seed-to-patient business model in the EMEA region, improving the company's ability to meet growing demand for medical cannabis and positioning it for adult use markets as regulations evolve.
Under the terms of the agreement, Akanda will acquire Holigen for a combination of $3 million in cash, 1.9 million Akanda common shares and the assumption at RPK of approximately $4.3 million of debt. In addition, to further align Akanda and Flowr, concurrently with the closing of the acquisition, Akanda will purchase 14,285,714 Flowr common shares for aggregate gross proceeds to Flowr of approximately $790,000.
The acquisition of Holigen, the owner of a Portugal-based cultivator, manufacturer and distributor, provides Akanda with both the capacity and route-to-market for delivering first-party and third-party EU Good Manufacturing Practice (GMP) certified medical cannabis to legal EU markets through a vertically integrated model. Holigen's wholly owned subsidiary RPK Biopharma Unipessoal consists of a 20,000 square foot indoor EU GMP certified grow facility located near Lisbon dedicated to the cultivation of high-THC cannabis as well as a large seven million square foot outdoor facility located two hours south in Aljustrel. Combined, the company believes these facilities will provide the flexibility of capacity in Portugal to produce two tons of indoor cannabis, over 100 tons of outdoor cannabis, and over eight tons of manufacturing capacity annually.
Holigen's purpose-built indoor grow facility is one of the only of its kind that can produce EU GMP medical cannabis equivalent to the recreational grades available in North America. Pursuant to the terms of the acquisition, Akanda will also benefit from the genetics library available from Flowr, including its BC Pink Kush, BC Black Cherry and BC Strawnana as well as certain new exotic genetics that will be exported to Portugal from Canada. Holigen harvested approximately 300 kilograms of medical cannabis in the first quarter of 2022. Initial in-process testing for both genetics of medical cannabis are indicating high THC content levels of greater than 25%.