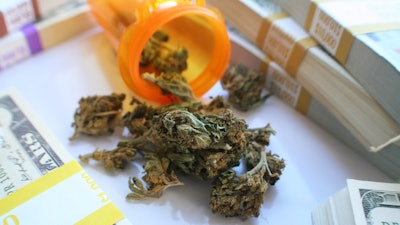 iStock
Bankers Associations from all 50 U.S. states have signed a letter to Congress urging legislation that will open up cannabis banking services without fear of federal sanctions.
In the letter to Senate Majority Leader Chuck Schumer and Minority Leader Mitch McConnell along with Senators Sherrod Brown and Pat Toomey, both members of the Committee on Banking, Housing and Urban Affairs, the associations asked for the Secure and Fair Enforcement Banking Act (SAFE Banking) to be included in the House-Senate conference version of the America COMPETES Act.
The group said the SAFE Banking Act is "urgently needed and widely supported" legislation that would allow banks to handle the proceeds from state-licensed cannabis businesses.
"Federal law prevents banks from banking cannabis businesses, as well as these ancillary businesses, without fear of federal sanctions. As a result, this industry is operating primarily in cash, which causes significant public safety concerns and undermines the ability of cannabis regulators, tax collectors, law enforcement and national security organizations to monitor the industry effectively," they wrote.
The Associations said the SAFE Act would provide increased transparency to ensure that regulators and law enforcement have the necessary tools to identify bad actors and remove them from the marketplace. The legislation would also enhance tax collection in the states where cannabis is now legal.
New Jersey is the latest state to begin recreational cannabis sales, joining 17 other states and the District of Columbia. Medical cannabis is allowed in 37 states.
"The inability of the state-licensed cannabis industry to access safe and regulated financial services is a pressing concern for so many of our nation's communities and the banks that serve them. With state-licensed cannabis businesses currently operating in 37 states and more states weighing legalization, we urge you to include the SAFE Banking Act in the compromise version of the COMPETES Act to address these critical issues as quickly as possible," they wrote.