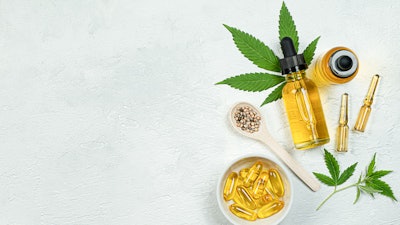 iStock
Oregon will become the first state to ban the sale of products containing synthetic cannabinoids beginning early next month.
According to the Oregonian, state regulators are putting the ban, which affects grocery stores and retailers, in place over concerns about the chemicals used to create the compounds.
Steven Crowley, the hemp and processing compliance specialist with the OLCC, told the publication that demand for CBD is outpaced the supply, leading to chemical processes being used to extract cannabinoids like delta-8 THC.
"And so, the people who had CBD on hand were looking for other ways that they could market it. People started working on different products that they could convert the CBD into. This is where you get the delta-8 THC products," he said. "We have testing for pesticides. We have testing for residual solvents from the extraction process. We don't have any testing for any of the whole universe of chemical reagents that you could use to synthetically turn one cannabinoid into something else, or for any of the byproducts of that reaction."
Starting July 1, 2022, the Oregon Liquor and Cannabis Commission will not allow the sale of industrial hemp products with any artificially derived cannabinoids. The OLCC said violations of the new rules could carry fines of up to $10,000.