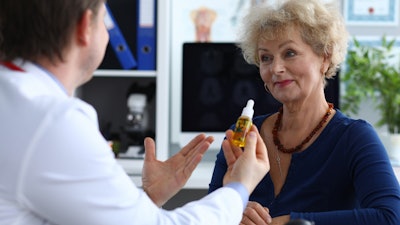 iStock
The Baby Boomer generation's use of CBD and cannabinoid products is surging, according to new data from Stirling CBD. Boomers' use of CBD and cannabinoids increased 212% last year. Now, more than 50% of those using the products are in the Baby Boomer and Gen X demographic groups.
Stirling CBD, based in North Carolina, is a provider of natural and potent CBD products derived from organic hemp, with no psychoactive components. CBD has become a popular organic remedy for joint pain, insomnia and nervous system illnesses, common ailments in people in their late 40s or older.
CBD has risen in popularity largely because of the variety of health benefits it claims to offer, including:
Improved coordination.
Relief from occasional pain.
Circulatory concerns.
Blood management.
Brain function.
As people age, they tend to develop different diseases or conditions, and CBD has been used as a natural alternative to over-the-counter medications. Through products such as its Delta 8 gummies and Delta 9 gummies, as well as the CBD lotion, Stirling can help alleviate many of the ailments related to pain relief through its products.
As awareness of the benefits of CBD has grown, so has Americans' use of the product:
33% of American adults have used CBD once or more. (SingleCare, 2020)
64% of Americans are familiar with CBD and/or CBD products. (Gallup, 2019)
An estimated 64 million Americans have tried CBD in the last 24 months. (Consumer Reports, 2019)
Of those who use CBD, 22% said it helped them supplement or replace prescription or over-the-counter drugs. (Consumer Reports, 2019)