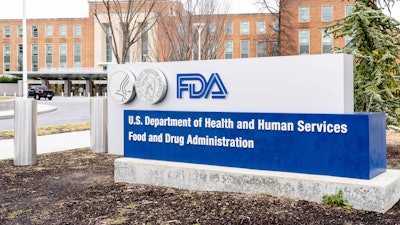 iStock
The U.S. Food and Drug Administration has appointed New York State's former cannabis programs director as its first internal cannabis adviser.
According to MarketWatch, Norman Birenbaum will serve as the agency's senior public health adviser on cannabis research and regulation.
"With his expertise in policy analysis and legislative outreach related to cannabis and cannabis-derived products, Norman is excited about creating the high-value partnerships needed for FDA's outreach throughout the health care community, including with patients and patient advocacy groups," Douglas C. Throckmorton, the FDA's deputy center director for regulatory programs, told the publication.
The hiring seemingly signals another step toward federal legalization of cannabis. U.S. Hemp Roundtable General Counsel Jonathan Miller suggested the move could be a catalyst for federal regulation of hemp-derived cannabinoids.
"After four years of inaction, we are hopeful that the appointment of Norman Birenbaum by the FDA signals a positive step forward for the regulation of hemp-derived cannabinoids such as CBD," said Miller in a statement. "We appreciated working with Birenbaum on the development on New York's landmark regulatory regime for hemp, and we look forward to working closely with him on the development of a regulatory framework for CBD products to ensure consumer safety and product quality across the country."
Besides running New York's cannabis programs, Birenbaum also helped found the Cannabis Regulators Association, which aims to provide policy makers with unbiased information about cannabis legalization.