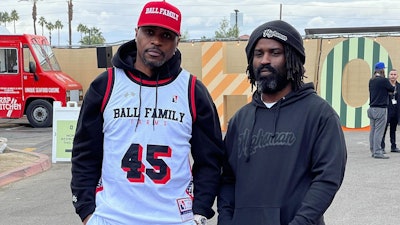 Ball Family Farms
Ball Family Farms, a craft cannabis brand, and Highsman, the company owned by Ricky Williams, today launched "Ricky Baker," a new collaborative strain. The custom flower targets pain and inflammation and was grown in living soil. Exclusively pheno-hunted to incorporate terpenes limonene and linalool, Ricky Baker will be available in California retail stores beginning Saturday, October 8th, 2022.
The new release, like all Ball Family Farms strains, is named for a movie character, Ricky Baker from "Boyz N the Hood."
With a shared history as football players and longtime cannabis advocates, Williams and Chris Ball, former legacy operator and CEO of Ball Family Farms, believe in the wellness impact of the plant and support a more sustainable industry.
Indoor cannabis cultivation can use as much as 2.8 gallons of water per plant, while outdoor can use up to 5.5 gallons, a heavy lift for drought-torn areas like California.
Ball Farms prides itself on its completely organic, closed-loop cultivation program and use of recycled natural soil. The company's living soil grow method maximizes every drop of water, creating negligible waste. Even condensation collected from HVAC or dehumidifiers is filtered and reused. Ball Farms strives to be a good example of how brands can grow quality products eco-efficiently.
"We are thrilled to be one of the few brands that Ball Family Farms has joined forces with," said Williams in a statement. "Chris [Ball] is a pioneer in the cannabis space, overcoming obstacles and transitioning to a truly grassroots legal operation. We are proud to collaborate on a product that gives back to those persecuted for cannabis related offenses, and leads the next generation of Black cannabis entrepreneurs."