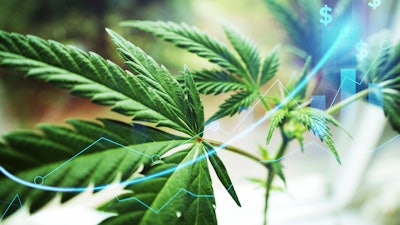 iStock
Canopy Growth today announced a strategy to accelerate its entry into the U.S. cannabis industry and maximize the value of its full U.S. cannabis ecosystem through the creation of a new U.S.-domiciled holding company, Canopy USA and the execution of a deliberate and highly structured process.
Canopy USA will hold the company's U.S. cannabis investments, which will enable it to exercise rights to acquire Acreage, Wana and Jetty.
"As the growth of the U.S. cannabis market continues rapidly at the state level, this strategy enables us to take control of our own destiny and capitalize on the once-in-a-generation opportunity in the largest cannabis market in the world," said David Klein, Chief Executive Officer of Canopy Growth Corporation. "We expect to unleash the full power of Canopy's scalable and ideally-positioned U.S. cannabis ecosystem to unlock potential expansion opportunities. This strategy and positioning are true differentiators, which we expect to enable our investors and brands to realize value in the near term while positioning Canopy for profitable growth and a fast start upon U.S. federal permissibility."
Acreage has its main operations in states across the Northeast including New Jersey and New York. Through its national retail brand, The Botanist, Acreage engages U.S. cannabis consumers and delivers a range of products, and a portfolio of brands like Superflux, as well as the Prime medical brand in Pennsylvania, and the Innocent brand in Illinois among others.
Wana is vertically integrated in Colorado and has a growing licensing division across 13 additional states. Wana has built a strong position in the gummies category and the company is entering new markets.
Jetty's extracts technologies create solventless vapes, live resin vapes, and other products. Supported by nine years of operations, Jetty represents a critical foothold in the largest THC market in the U.S. and is primed to scale its products nationally.
In addition, Canopy USA controls a conditional ownership position in TerrAscend, a North American cannabis operator with vertically integrated operations and a presence in Pennsylvania, New Jersey, Michigan, and California as well as licensed cultivation and processing operations in Maryland.