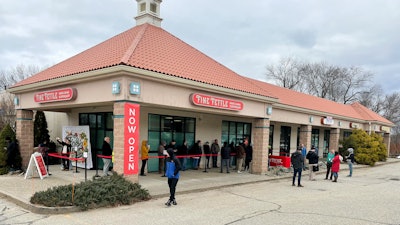 AP Photo/Pat Eaton-Robb
MONTVILLE, Conn. (AP) — Connecticut's first round of recreational cannabis sales for adults 21 and older began Tuesday at seven existing medical marijuana establishments across the state, less than two years after Gov. Ned Lamont signed legislation making Connecticut the latest state to legalize retail sales.
As many as 40 dispensaries, along with dozens of other cannabis-related businesses, are expected to eventually open in Connecticut by the end of this year.
"Today is historic, but the real story is about the benefits to come that will transform lives and communities," Adam Wood, president of the Connecticut Cannabis Chamber of Commerce, said in a statement. He estimates the new industry will create more than 10,000 jobs over the next couple of years and generate hundreds of millions of dollars in new revenue that will help benefit communities most impacted by the war on drugs.
Read: Medical Cannabis Patients Advised to Buy Early to Avoid Adult-Use Deluge in Connecticut
Lamont, a Democrat, said Tuesday that one of the goals of the legislation that legalized recreational marijuana was to create a regulated, safer product for consumers. Another part of the law allows convictions for low-level marijuana crimes to be erased, many automatically. Nearly 44,000 such convictions have been erased since the start of the new year, officials said.
"Today marks a turning point in the injustices caused by the war on drugs, most notably now that there is a legal alternative to the dangerous, unregulated, underground market for cannabis sales," Lamont said in a statement.
Recreational sales were allowed to begin at 10 a.m. on Tuesday. State-approved shops in Branford, Meriden, Montville, New Haven, Newington, Stamford and Willimantic were expected to open their doors to the general public on the first day. Two other approved dispensaries, in Danbury and Torrington, will open at a later date.
In Montville, local state lawmakers and the mayor turned out for a ribbon-cutting ceremony at The Botanist. A steady stream of medical marijuana patients stopped by to pick up their items before recreational sales began. Workers inside a heated tent folded free T-shirts and prepared to help customers place orders in kiosks.
Lynn Goldstein, 60, of Norwich, was the first customer in line in Montville. She said she has suffered with chronic pain since 2011 and has been a medical marijuana customer. She said she was glad recreational sales are now legal, but had some concerns.
"I do worry about the young people because they don't know how to handle it and they will be driving stoned, and it's going to be very hard for police to figure out what's what," she said.
Goldstein added she didn't intend on being the first in line but was happy that she was. She was given a bag of goodies, including a $250 vaporizer.
At the Fine Fettle Dispensary in Willimantic, about 20 people lined up before the opening. The dispensary had asked customers to order online and arrive at the store at a designated time, to avoid long lines.
Samuel Gabbey, a 32-year-old package delivery operations manager from Mansfield, said he had been waiting years for this day. He thought it would be better for people to go to a legal shop, to avoid having to buy from strangers and ease concerns about unknown substances added to the marijuana.
"The day finally came where we can all just come here and get what we want and go home without having to worry about the police or anything," he said. "So it's a good day for people in Connecticut."
It's unclear whether the novelty of legalized marijuana has worn off a bit for Connecticut consumers, considering retail sales began in 2018 in neighboring Massachusetts and last month in neighboring Rhode Island and New York.
Twenty-one states have legalized recreational marijuana for adults over the past decade, even though it remains illegal under federal law. Since voters approved legalization in Maryland and Missouri in November, marijuana advocates have pressed forward with similar efforts elsewhere in the U.S., including in Ohio and Oklahoma.
As of Feb. 3, 2022, 37 states, three territories and the District of Columbia allow the medical use of cannabis products, according to the National Conference of State Legislatures.
Connecticut's "hybrid" medical and recreational cannabis retail shops prepared for large crowds Tuesday.
Kate Nelson, senior vice president of the Midwest and Northwest regions for Acreage Holdings, which owns The Botanist brand, said the Montville location sees about 200 to 300 medical marijuana customers daily. She predicted there will be a 150% uptick in sales during the first week of recreational sales, but acknowledged that will likely level off.
The company's second location in Connecticut, located in Danbury, is expected to open in the next few weeks after local approvals are finalized.
"I think even before the 40 operators come online, you'll start to see less of that excitement of something new and more so of kind of what the status quo will become," Nelson said. "We're in an area now in the country where there's other adult-use states nearby. So it's really going to be a focus of ours, in the state of Connecticut specifically, to make sure that this adult-use program has the product that it needs to have and we can support the industry ... to make sure Connecticut sets themselves apart from other competing markets."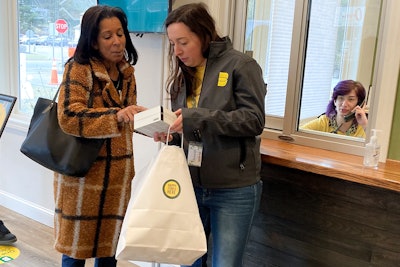 Initial sales in Connecticut will be limited to one-quarter of an ounce (7 grams) of cannabis flower or its equivalent, in an effort to ensure there will be enough supply for medical marijuana patients. Different items can be purchased together to make up the one-quarter ounce. The state's Department of Consumer Protection plans to watch retail sales and manufacturing supplies closely to determine when that amount can eventually be increased.