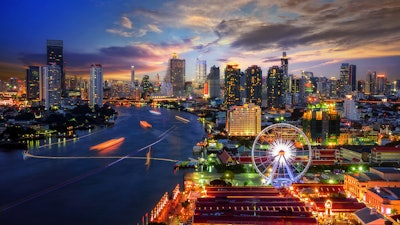 iStock
International cannabis brand Cookies announced its entrance into Thailand's cannabis marketplace with the opening of its first dispensary in the region on Saturday, Jan. 21. Located in the internationally celebrated food, music, art and culture hub of Bangkok, the launch of Cookies Thailand marks a milestone for the brand as it enters its 6th country and becomes the 58th Cookies storefront worldwide.
"The fact that my first time going to Asia is to open up a Cookies store is not something I could have ever imagined and really special," said Berner, Co-Founder and CEO of Cookies. "This store is beautiful and we are grateful for our partners on the ground in Thailand who helped make this possible. Thailand is an incredibly unique place full of incredible culture and opening up a Cookies store with the support of the country of Thailand, I am grateful for. I hope Bangkok is ready for an exclusive menu of fire genetics. I can't wait to open doors on a new continent on Saturday, 1/21/23!"
To honor the Southeast Asian country's vibrant culture, the 500-square-foot dispensary will boast an atmosphere with Thai-inspired wall paintings featuring a blessing from Thai Buddhist monks. As the first dispensary in Asia with a credit card machine, Cookies' iconic cultivars and products will be available for purchase, along with exclusive Cookies SF clothing and accessories, including local reserve merchandise specific to Thailand.