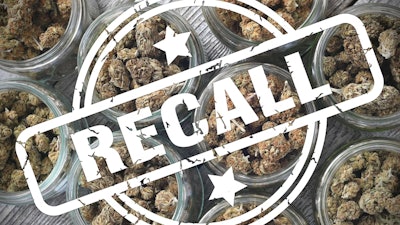 The Colorado Department of Revenue (DOR) Marijuana Enforcement Division on Friday issued a health and safety advisory after finding potentially unsafe levels of total yeast and mold and aspergillus contamination in flower produced by Physician Preferred Products (PPP) (dba Doc's Apothecary).
A DOR investigation identified Mac and Punch harvest batches produced by PPP that contained levels of contaminants above acceptable limits for total yeast and mold. It also found a batch of Apple Fritter as well as another with unacceptable levels of aspergillus.
Packages from the contaminated batches were sold between March 4, 2022 and September 22, 2022 at a pair of Doc's Apothecary locations, one in Northglenn, CO and another in Denver.
The investigation also found that batches created between January 1, 2020 and September 21, 2022 were improperly submitted for testing. As a precautionary measure, DOR also included these batches in the advisory.
PPP initiated a voluntary recall for the affected batches.
Consumers who have the affected product in their possession should destroy it or return it to the retail location for proper disposal.
Consumers who experience adverse health effects from consuming the marijuana flower should seek medical attention immediately and report the event to the Marijuana Enforcement Division.