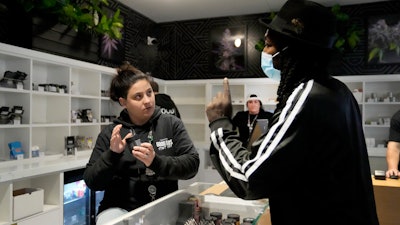 AP Photo/Jeff Roberson
COLUMBIA, Mo. (AP) — Recreational marijuana sales in Missouri officially began Friday after the state health department unexpectedly began approving dispensary permits early.
Medical marijuana has been legal in the state since a ballot measure passed in 2018, but voters went a step further this November by approving a constitutional amendment legalizing the drug for anyone 21 or older. The new law made Missouri the 21st state to allow recreational use.
Under the amendment, non-medicinal pot use became legal in the state in December. But sales were stalled because the health department had until Friday to issue business licenses.
Almost all of the state's medical marijuana dispensaries applied to sell recreational pot, according to Lisa Cox, spokeswoman for the Department of Health and Senior Services.
Of the medical marijuana facilities that applied to sell cannabis recreationally, 335 were approved as of Friday. That includes 207 dispensaries, 72 manufacturers and 56 cultivation facilities, according to the agency.
Close to 200 dispensaries were inspected Friday and given the go-ahead to sell to consumers.
Ryan Herget, CEO of Good Day Farm, said the company expects sales at its 19 Missouri stores, which previously only sold cannabis for medical use, to double or triple. He said the company hired about 200 new employees in anticipation of increased demand.
One of the company's first customers Friday was Gregory Williams, 55, of St. Louis, who welcomed the legalization of marijuana.
"It means a little liberation, a little less red tape," along with revenue for the city and for business people, Williams said. He plans to buy weekly.
Teresa Gooch, 62, of Troy, Missouri, said she recently had a medical procedure and uses marijuana for pain relief. She said it's "amazing" to be able to go to a store and try different strains to see what works best.
Adults who want to grow their own cannabis can now apply for a permit through the health department.
If the agency does not approve or deny licenses by Friday, dispensaries that previously only sold medical marijuana will automatically be permitted to sell recreational pot as well.
Missouri's constitutional amendment to legalize recreational pot use also called for the expungement of records of past arrests and convictions for nonviolent marijuana offenses, except for selling to minors or driving under the influence.
More than 5,200 past crimes had been wiped from Missourians' records as of Thursday.
—-
AP photojournalist Jeff Roberson in St. Louis contributed to this report.