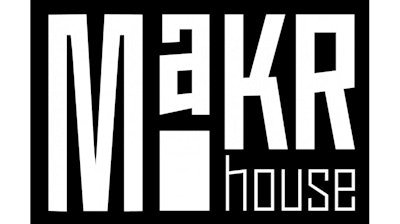 MAKR House yesterday announced the release of a limited edition 'Black in Business Box' in collaboration with four Black-owned cannabis brands. The box, available at all Embarc dispensary locations across California, features a curated selection of cannabis products from Dose Of Saucy, Queen Mary, Farmer Don, SF Roots and Landrace Origins.
According to MAKR, the 'Black in Business Box' gives small businesses a platform for increased exposure during a crucial time in the California cannabis market, while celebrating the innovation of Black-owned brands.
The box includes: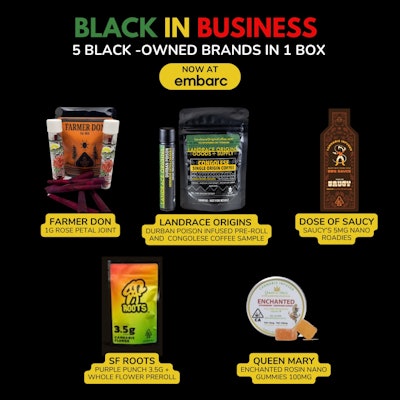 Landrace Origins Cannabis & Coffee Pairing: Durban poison-infused pre-roll and a 1.8oz Congolese coffee sample
Dose of Saucy: Three Types of 5 mg Nano Roadies
Queen Mary: 100 mg Enchanted Rosin Nano Gummy
Farmer Don: Rose Petal 1 g Joint
SF Roots: Purple Punch 1/8th + Whole Flower 1g Pre-Roll
All of the 'Black in Business Box' brands are distributed by Equity Trade Inc.
The brands in the box:
MAKR House was founded in Oakland, CA, by Amber Senter, a cannabis entrepreneur and advocate who works to break down barriers for Black and Brown people in cannabis. MAKR House is a proudly black, woman, LGBTQ+ and veteran-owned company. The company's brands include Landrace Origins and Disco Jays.
Dose of Saucy is a vegan, sugar-free and gluten-free condiment line infused with fast-acting cannabinoids. Tess M. Taylor founded Saucy as a mentee of Our Dream, a 501(c)(3) pre-accelerator program and evergreen, virtual educational platform.
Queen Mary is an Emerald Cup-winning line of fast-acting vegan edibles designed to provide a natural alternative to addictive prescriptions via a daily cannabis regimen. Queen Mary is a social equity brand that is founded and 100% owned by a woman of color, Tiana Woodruff.
Farmer Don was founded in the Emerald Triangle Mendocino County by Donte' Graham, an entrepreneur and cannabis cultivator. Farmer Don is a black-veteran-owned company that values family, selfless-service, respect, loyalty and integrity.
SF Roots is a Black-owned cannabis company based in San Francisco operated by Morris Kelly. SF Roots is one of the city's first social equity companies dedicated to preserving the quality standards and culture on which the industry was founded.