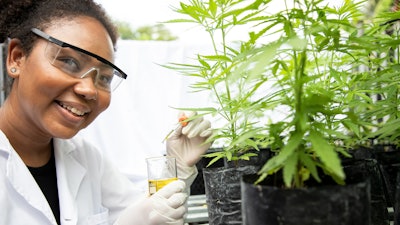 NJEDA
The New Jersey Economic Development Authority (NJEDA) announced today that the Eligibility Assessment Tool for the first phase of its Cannabis Equity Grant Program will open on Wednesday, March 8, 2023, at 9:00 a.m. The $10 million state-funded pilot program consists of 2 phases and the first phase is for the Joint Ventures Grant of $250,000, the largest of its kind in the nation. The Cannabis Equity Grant Program is focused on supporting businesses and startups in the recreational cannabis industry and ensuring that communities that were adversely impacted by the war on drugs have equitable access to the industry. To this end, 40% of the funding in Phase I is reserved for qualifying social equity applicants primarily characterized as those who have previous cannabis convictions or live in economically disadvantaged areas. Additionally, 5% of the total program funding is reserved for businesses located in Impact Zones, which are areas targeted based on previous levels of marijuana arrests, population, unemployment rates, and additional socioeconomic factors.
The purpose of the Eligibility Assessment Tool is to help applicants determine their eligibility prior to the launch of the Phase I application. There is no cost for this tool.
"By 2025, the cannabis industry is expected to contribute approximately $2.4 billion to New Jersey's economy. However, access to capital remains a significant barrier to entry, particularly for people of color. NJEDA is thrilled to take the first step in ensuring that businesses that have been historically and intentionally locked out of funding opportunities have access to the capital needed to participate in this growing industry," said Tim Sullivan, CEO of NJEDA. "I want to thank our partners in this crucial work, the New Jersey Cannabis Regulatory Commission and the Business Action Center, for collaborating with NJEDA to make sure that these dollars help to fulfill Governor Murphy's commitment to building stronger and fairer communities in our state."
"Through NJEDA's work, I've witnessed firsthand the transformative impact that access to capital can have on New Jersey small businesses and startups, especially those owned by people of color. Cannabis entrepreneurship opportunities can play an integral role in building and returning wealth to individuals and communities that have been significantly harmed by the criminalization of cannabis," said Tai Cooper, Chief Community Development Officer of NJEDA. "NJEDA recognizes that this pilot grant program alone will not address all of the barriers to entry for small businesses and those who have suffered unfairly as a result of the war on drugs, which is why it is the first in a series of initiatives aimed at increasing equity and access to this industry."
The Joint Ventures Grant will allocate a total of $6 million in funding to 24 entities that have a conditional or annual license, have obtained site control over their real estate, and have municipal approval. Each $250,000 Joint Ventures Grant will be disbursed in two rounds with the first allocation in the amount of $100,000 occurring upon the execution of the grant agreement. The second disbursement of $150,000 will occur once the grantee receives its annual license and demonstrates that it utilized the first disbursement for eligible costs.
The goal of the Joint Ventures Grant is to support businesses that do not need technical assistance but that still have carrying costs and capital issues associated with converting their conditional license to an annual license. Eligible applicants must have formed their business after March 9, 2020 and employ 50 or fewer full-time employees.
Eligible uses for the Joint Ventures Grant include expenses such as rent and mortgage payments, payroll and independent contractors, utilities, legal, accounting, marketing, and more. To learn more about the program and the eligibility requirements, visit Cannabis Equity Grant Program - NJEDA.
Applicants who are not eligible for the Joint Ventures Grant may qualify for Phase II of the program that will launch later this year. The Phase II grant in the amount of $150,000, the Seed Equity Grant, is solely for applicants who meet the New Jersey Cannabis Regulatory Commission's criteria for social equity and have obtained a conditional license but have not secured the real estate or municipal approval (defined as a resolution from governing body or letter of support from the Municipal Executive and land use/planning/zoning approval) and need assistance in converting their conditional license to an annual license. Additionally, all applicants who do not qualify for the Phase I grant will be connected to training and other programmatic resources.