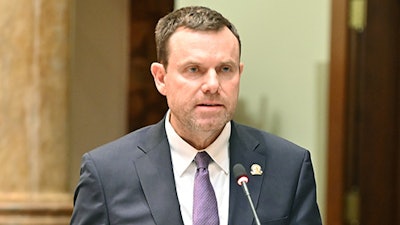 LRC
FRANKFORT — After failing to gain much support in the Senate in past years, a medical cannabis bill won approval on the chamber floor Thursday.
Senate Bill 47 calls on the state Cabinet for Health and Family Services to implement, oversee and regulate a medicinal cannabis program, which would be clear to launch in January 2025.
The bill's primary sponsor, Sen. Stephen West, R-Paris, said the bill is not actually his — it is the work of many people who have contributed over time. The measure passed off the chamber floor with a 26-11 vote.
"I didn't intend to get into this issue," West said. "I'm now convinced that medical marijuana, if provided to our citizens through a tightly regulated system, can provide some important relief to our constituents in dealing with numerous horrendous conditions and those with conditions in which pharmaceuticals do not provide relief or cause serious side effects."
SB 47 has been vetted possibly more than any other bill in the history of the commonwealth, he said, adding that "this is a very complex issue and if passed, will be a work in progress."
The legislation gives officials at the health cabinet latitude to develop regulations and implement the legislation. The use of the product will be tracked through Kentucky's controlled substance monitoring system, which is known as KASPER.
Several medical conditions could qualify someone to use medicinal cannabis, including cancer, chronic and other types of pain, epilepsy, multiple sclerosis, muscle spasms, chronic nausea and post-traumatic stress disorder.
Before accessing the product, patients would have to register and receive approval for a special identification card. Patients under 18 years old would not be allowed to possess, purchase or acquire medicinal cannabis without the assistance of a designated caregiver.
The bill would also create separate licenses for cultivators, dispensers and producers.
"Persons shall not operate cars, vessels or aircraft under the influence. Smoking is not allowed in this bill," West said.
While the Senate was divided on the measure, debate over SB 47 was amicable.
Sen. John Schickel, R-Union, voted against the measure, but said he has been impressed by impassioned advocates who fought for the bill.
Sen. Donald Douglas, R-Nicholasville, also opposed SB 47, citing concerns about the lack of assessment, review and reporting of data on medicinal cannabis. He also noted that the federal Food and Drug Administration has not formally approved marijuana for any medical use.
"A recent study that was done in Colorado suggested that for every dollar gained in taxes, it cost them about $4.50 just to mitigate the other issues that occur as a result the marijuana, and we're not even taxing this because it's medical someone says," Douglas said.
Senate Majority Floor Leader Damon Thayer, R-Georgetown, said he's been called one of the strongest opponents of medical marijuana. However, he said many people over the years have had an effect on him, including some of his relatives.
"I vote yes. And this is not an easy vote for me. I'm not the kind of guy who changes his mind very easily," he said.
Thayer said he does support the pain relief medicinal cannabis can offer.
"On behalf of those who suffer and can find some relief, I've come to this decision. And people have asked me why because they know I'm a stubborn guy. Why did you change your mind? One word: compassion. I proudly vote yea," he said.
Sen. Robin L. Webb, D-Grayson, said she is proud to support the legislation.
"It is an historic moment, and I think we can make it a good moment as we utilize an option for a population in Kentucky that needs it and that we can do it in a responsible manner. And I look forward to doing that," she said.