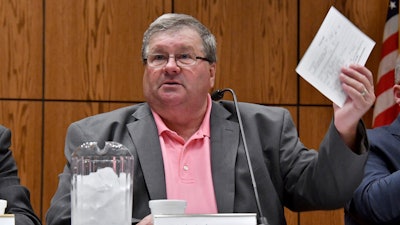 Dale G Young/Detroit News via AP, File
GRAND RAPIDS, Mich. (AP) — A businessman pleaded guilty Friday to bribing the head of a Michigan marijuana licensing board, the first conviction in a federal investigation into payoffs and other benefits before the panel was disbanded in 2019.
John Dalaly appeared in federal court in Grand Rapids, two weeks after his plea deal was announced.
Dalaly said he provided at least $68,200 in cash and other benefits to Rick Johnson, including two private flights to Canada.
Johnson, 70, was chairman of the marijuana board for two years. The board reviewed and approved applications to grow and sell marijuana for medical purposes.
Dalaly said Johnson had recommended that he hire Johnson's wife as a consultant to help with his application.
Johnson, a Republican, is scheduled to plead guilty next Tuesday. He was a powerful lawmaker years ago, serving as House speaker from 2001 through 2004.
Two lobbyists are also due in court next week. Brian Pierce and Vincent Brown have agreed to plead guilty to conspiring to pass bribes to Johnson. All four men are cooperating with investigators, which could help them at sentencing.
Gov. Gretchen Whitmer abolished the medical marijuana board a few months after taking office in 2019 and put oversight of the industry inside a state agency.
Michigan voters legalized marijuana for medical purposes in 2008. A decade later, voters approved the recreational use of marijuana.