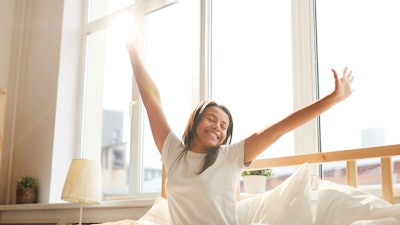 iStock
A landmark study led by cannabinoid therapeutics company FloraWorks Holdings has announced the results of the first-ever double-blind, randomized, placebo-controlled trial that analyzed the effects of its flagship product, TruCBN, a pure form of cannabinol (CBN), on sleep.
Independently conducted by clinical-research company, Radicle Science, the research compared the effects of TruCBN against melatonin and a placebo, among more than 1,000 participants across the U.S. CBN is one of more than 100 known cannabinoids found in the cannabis plant.
Each participant received one of the followin, TruCBN, melatonin or a placebo. The trial found:
The group taking 50 mg of TruCBN showed a significant improvement in sleep compared to placebo, and most of the group experienced a clinically important improvement.
The group taking 4 mg melatonin also showed a significant improvement in sleep compared to placebo.
The group taking 50 mg of TruCBN had slightly better sleep improvements compared to 4 mg of melatonin.
The groups taking 25 mg and 100 mg of TruCBN had marginally significantly better sleep improvements compared to placebo.
50 mg of TruCBN delivered better sleep outcomes than 25 mg or 100 mg, which is the first clinical trial data to suggest TruCBN may have a U-shaped dose-response curve for sleep.
All side effects were mild or moderate and there were no significant differences in the frequency of reported side effects between any dose of TruCBN or melatonin compared to placebo.
"Our results pave the way for developing more effective sleep solutions, ultimately improving the quality of life for millions of people who struggle with sleep disturbances," said FloraWorks CEO and Cofounder Alleh Lindquist. "These findings bring needed clarity to the rapidly growing consumer demand for existing CBN products."
Radicle Science Cofounder and CEO Jeff Chen, MD/MBA said, "The historical firsts encompassed in this study, especially discovering that CBN may have a U-shaped dose-response curve, have tremendous implications for formulating effective, natural sleep products for Americans. The findings especially highlight the importance of using the right dosage. For CBN, both too much (100 mg) and too little (25 mg) may have decreased effectiveness."
The findings have the potential to become major market disruptors to the legacy over-the-counter sleep aid market. Sixty percent (60%) of Americans report they get less than the recommended seven hours of sleep per night and poor sleep has become a public health concern as it is linked to many health issues, including inflammatory conditions, obesity, heart disease and overall reduced quality of life.