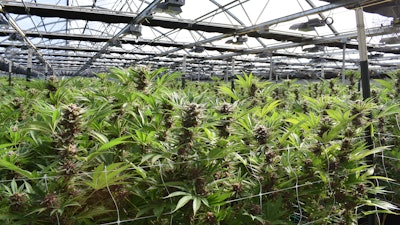 iStock
Teamsters are calling on Green Thumb Industries (GTI) to address its workers' safety concerns in response to the news that a staff member died at the company's Rock Island, Illinois grow operation on Friday, July 14.
As the Teamsters pointed out, it is at least the second time a worker at a cannabis grow operation has died on the job in the U.S. Workers at GTI have filed at least five complaints with the Occupational Safety and Health Administration (OSHA) alleging serious safety and health violations, including two complaints that are under investigation at the Rock Island location. GTI has been previously cited by OSHA at other facilities for health and safety violations.
"While it's still too early to conclusively determine the circumstances that led to this individual's untimely death, what we do know is that there have been significant concerns about occupational hazards at this operation – particularly regarding respiratory health – in the past," said Jim Glimco, President of Teamsters Local 777. "We also know that those concerns haven't always been adequately addressed when brought to the attention of higher-ups. GTI needs to take drastic and immediate action to address the safety concerns of its workforce. This includes allowing them to unionize and bargaining in good faith so the workers can enforce safety standards through a union contract."