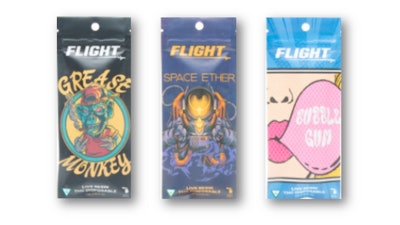 CRA
Michigan's Cannabis Regulatory Agency (CRA) on Friday issued a voluntary recall of vape cartridges over the presence of banned chemical residue.
The vape cartridges were made by Sky Labs, a licensed cannabis processor. The products were manufactured under the name "Flight Live Resin Disposable" and include three batches: Grease Monkey, Space Ether and Bubblegum.
The CRA provided a list of more than 70 retail locations in the state where the products were sold.
Consumers who have the products are advised to return them to the retail sales location for proper disposal. Any customer who has experienced adverse reactions after using these products should report their symptoms and product use to their healthcare providers. They are encouraged to also report any adverse reactions to marijuana products to the CRA.
Licensees that become aware of any adverse reactions to a cannabis product must notify the CRA and enter the information into METRC within one business day.
While the CRA is unable to provide any comments regarding an ongoing investigation, any agency spokesperson did confirm the names of the banned chemical residues that were discovered. The list includes insecticides Bifenthrin, Bifenazate and Permethrins, as well as fungicides Myclobutanil and Paclobutrazol.