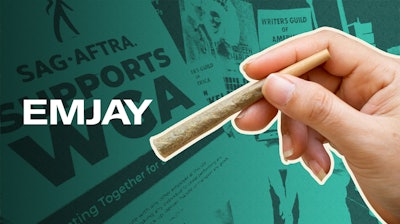 Emjay
Emjay, a cannabis retailer and delivery service based in California, said it will stand in support of actors and writers participating in the nationwide strike. Representatives from the company's Los Angeles dispensary will be present at various strike locations this weekend, distributing vouchers that grant card-carrying members of SAG-AFTRA or WGA the privilege of exempting all cannabis taxes from their next purchase at Emjay.
The team from Emjay will make stops at prominent studios such as Netflix, CBS, and Fox.
"The CBS Studio is just down the street from our West Hollywood dispensary, so we're really seeing the strikes first hand. We're excited to connect with the strikers on a deeper level and, hopefully, offer them some value while they fight for fairness," said Emjay CEO Chris Vaughn.