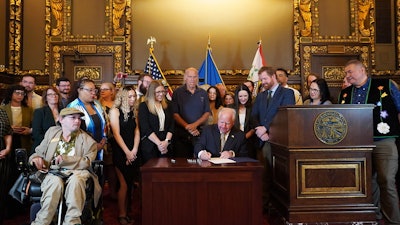 Office of Governor Tim Walz & Lt. Governor Peggy Flanagan
Former Minnesota Governor Jesse Ventura said he wants to launch his own cannabis brand in Minnesota now that the state has legalized adult-use recreational cannabis.
During a conversation at Canna Connect, spotted by Marijuana Moment, Ventura said he wants to be the first major U.S. politician to have their "likeness, face and everything behind cannabis." He then pointed to representatives from Ventura Farms, which could be in reference to Jesse Ventura Farms, a limited liability company registered earlier this year in Minnesota.
"I want involvement in the state of Minnesota. Minnesota grown, Minnesota produced and promoted by Minnesota's governor, or former," he said during the event.
Minnesota this week officially legalized recreational cannabis after Governor Tim Walz signed the law earlier this year. Ventura was in attendance when Walz signed the bill.