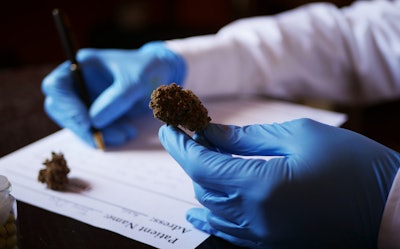 iStock
Exercising its authority and discretion in licensing, the Alabama Medical Cannabis Commission (AMCC), at its meeting on August 10, 2023, nominated applicants and voted to award medical cannabis business licenses to the following applicants.
Integrated Facility License
Insa Alabama, LLC
Flowerwood Medical Cannabis, LLC
Southeast Cannabis Company, LLC
Sustainable Alabama, LLC
TheraTrue Alabama, LLC
Cultivator License
Gulf Shore Remedies, LLC
Pure by Sirmon Farms, LLC
Blackberry Farms, LLC
Twisted Herb Cultivation, LLC
I AM FARMS
Greenway Botanicals, LLC
CRC of Alabama, LLC
Processor License
Enchanted Green, LLC
1819 Labs, LLC
Organic Harvest Lab, LLC
Jasper Development Group Inc.
Dispensary License
Yellowhammer Medical Dispensaries, LLC
CCS of Alabama, LLC
RJK Holdings AL, LLC
Statewide Property Holdings AL, LLC
Secure Transport License
Tyler Van Lines, LLC
International Communication, LLC
XLCR, Inc.
State Testing Laboratory License
Certus Laboratories
The University of South Alabama (USA) was engaged by AMCC to coordinate the application review process and recruit evaluators to assess the scored exhibit items for all 90 applicants. USA utilized 66 evaluators, with experience relevant to the application content, to review one of eight scoring categories: (1) Financial Ability; (2) Business/Management Approach; (3) Operations Plans & Procedures; (4) Facility Suitability & Infrastructure; (5) Security Plan; (6) Personnel; (7) Quality Control & Testing; or (8) Marketing & Advertising.
At its meeting on June 12, 2023, the Commission voted to award medical cannabis business licenses in each license category, however due to the discovery of potential inconsistencies in the tabulation of scoring data, the Commission voted on June 16, 2023, to stay all proceedings related to the current offering of medical cannabis business licenses.
Following notification by the Alabama Medical Cannabis Commission of a score calculation variance, the University of South Alabama initiated comprehensive reviews by two internal, senior-level accountants who were not involved with the initial tabulations.
The accountants, working independently, recalculated all applicant scores and noted variances from the scores previously submitted to the Commission. After the internal reviews were completed, the University engaged with KPMG – an internationally recognized, Big-Four accounting firm – as an external third party to validate the recalculated scores. KPMG and the two internal recalculations identified the same variances.
"Since the Commission's inception, we have worked to develop a fair, honest, and equitable process to select licensees," explained Commission Chairman Rex Vaughn. "It is regrettable that the tabulation errors occurred, however we have acknowledged the miscalculations and have taken the necessary steps to ensure that the data provided to the Commission was accurate. We are sincerely appreciative of the Court for allowing us to take corrective actions."
Following this award of licenses, the procedural timelines associated with the post-award licensing process will restart. Those applicants who were awarded a license will have 14 days to submit the appropriate license fee and any applicant who has been denied a license may seek an investigative hearing before the Commission to seek reconsideration of said denial.
Under the rules promulgated by the Alabama Board of Medical Examiners, physicians may begin the certification process to recommend medical cannabis to patients after business licenses have been issued. For a patient to qualify for medical cannabis, the patient must have at least one of the qualifying conditions and be recommended for medical cannabis by a certified physician.
"Formulating the application process, assessing all 90 applications, and making determinations on who to award licenses to has been a monumental task," explained Vice Chairman and Pharmacist Dr. Sam Blakemore. "We received numerous applications from applicants who would make terrific licensees, which made the selection process extremely competitive. I have spent countless hours reviewing the applications myself and feel confident that we have selected a great slate of licensees."
While the Commission is limited as to the number of licenses it can issue pursuant to the statute, the Commission intends to open a second offering of licenses for various license categories.