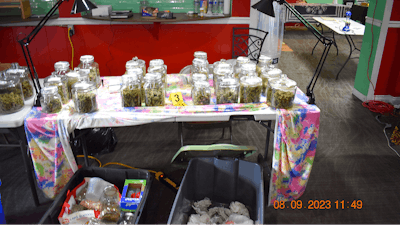 Washington State Liquor and Cannabis Board
Washington State Liquor and Cannabis Board (LCB) officers yesterday executed a search warrant at an unlicensed business and seized approximately 50 pounds of cannabis.
The seizure comes after an LCB investigation, and the board is recommending criminal charges for the operation's owners.
The investigation started after a public complaint regarding illegal cannabis sales. On multiple occasions, LCB undercover officers purchased illegal cannabis from the unlicensed cannabis retailer, Caveman Medicine, located at 1305 South 56th St. in Tacoma.
Under state law, cannabis may only be sold by a business holding a state-issued cannabis retail license.
The LCB officers executed the search warrant in partnership with the Tacoma Police Department. Altogether, the officers located and seized about 50 pounds of cannabis products at the store, including a large quantity of cannabis concentrates and cannabis-infused edible products being offered for sale.
Many of the cannabis-infused products would have been illegal to sell in the regulated marketplace, including products exceeding THC serving size limits and products that are especially appealing to children. Additionally, the location had a lounge smoking area, operating as an illegal cannabis club.
LCB officers will be recommending felony charges to the Pierce County Prosecutor's Office for unlawful possession and delivery of a controlled substance and operating a cannabis club.