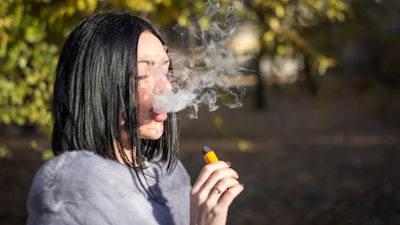 iStock
Lifeist Wellness today announced it has entered into a definitive share purchase agreement with Flora Growth to divest and sell Australian Vaporizers Pty, its wholly owned Australian subsidiary, to Flora for a purchase price of $1.9 million, subject to certain adjustments. The transaction is expected to close in late September or early in the fourth quarter of 2023.
"Australian Vapes is a legacy business within Lifeist and its sale represents another step of our transformation into a portfolio of wellness focused products and ventures," said Meni Morim, CEO of Lifeist Wellness. "The decision to divest Australian Vapes aligns both strategically and financially with our long-term business plans. This transaction allows us to focus more resources on our flagship businesses CannMart and Mikra and provides valuable non-dilutive capital to continue our growth strategy. Further, Australian Vapes is accretive to Flora's existing operations and we expect it to accelerate its growth under Flora's complementary business model. We believe this transaction will uphold Lifeist's enduring legacy in the marketplace."
Pursuant to the terms of the SPA dated September 17, 2023 entered into between Lifeist, as vendor, and Flora Growth Corp, as purchaser, Lifeist will sell all of the issued and outstanding shares of Australian Vapes to Flora, for total consideration valued at $1.9 million, payable by Flora issuing from treasury to the company 600,676 Flora common shares, (based on a per share price equal to $3.1631, being the 5-day VWAP of Flora's common shares on NASDAQ immediately prior to the signing of the SPA), subject to a cash balance, working capital and inventory and inventory deposits adjustment on the closing date as set out in the SPA. The transaction constitutes a "Reviewable Transaction" pursuant to the policies of the TSXV and as such remains subject to the approval of the TSXV. The transaction does not involve any Non-Arm's Length Parties (as defined in TSXV Policies). Kronos Capital Partners is acting as financial advisor to Lifeist.