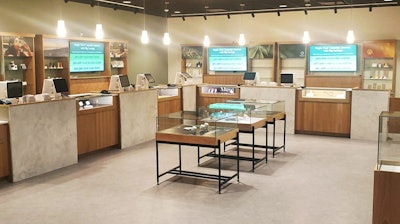 Trulieve Cannabis today announced the relocation of a medical cannabis dispensary in Melbourne, Florida.
The new location at 1921 Alma Drive, less than one mile from Interstate 95, offers greater convenience to patients in southern Brevard County. Trulieve will host a grand opening celebration at the new location beginning at 9 a.m., Friday, October 20, with partner giveaways, music, specials, discounts and opportunities to register for upcoming patient education sessions.
"We are committed to finding the most convenient locations to best serve our Florida patients," said Trulieve's Chief Executive Officer Kim Rivers. "This relocation improves our ability to offer our broad assortment of products and first-class customer service to the Melbourne community."
The new Melbourne location will be open 9 a.m. – 8:30 p.m. Monday through Saturday and 11 a.m. – 8 p.m. on Sundays. Trulieve offers statewide home delivery, convenient online ordering, and in-store pickup. Veterans receive 20% off every order when they show their military ID, and all first-time guests are eligible for a 60% new customer discount at any Florida Trulieve location.
Designed to meet every customer's needs, Trulieve's portfolio of popular in-house brands includes Alchemy, Co2lors, Cultivar Collection, Modern Flower, Momenta, Muse, Roll One, Sweet Talk and Trekkers. Customers also have access to beloved partner brands such as Alien Labs, Binske, Black Tuna, Blue River, Connected Cannabis, DeLisioso, Khalifa Kush, Love's Oven, Miami Mango, O.pen, Seed Junky and Sunshine Cannabis, all available exclusively at Trulieve in Florida.