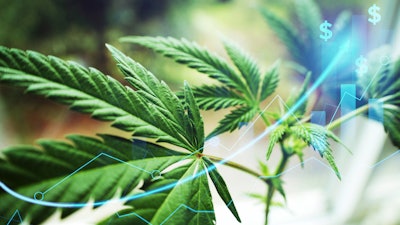 iStock
Verano Holdings, a multi-state cannabis operator, reported an increase in revenue during the third quarter, which it attributed in part to wholesale cannabis sales.
The company's revenue for the third quarter 2023 was $240 million, up 5% from $228 million for the third quarter 2022. The increase was driven by sales in Connecticut and Maryland, both of which began adult-use recreational cannabis sales this year.
Along with the modest revenue increase, Verano also reported narrower losses. The company's third-quarter net loss totaled $18 million, versus a loss of $43 million in the third quarter 2022. The company said it was able to shrink its losses thanks to higher operating income and lower tax provision.
"Our strong performance resulted from key drivers that include another seamless adult use transition in Maryland, the continued expansion of our wholesale business and market-leading positions in Connecticut and New Jersey, successful new product launches and line extensions across our growing brand portfolio, and the addition of new dispensaries to bolster our expanding retail footprint in key states," said CEO George Archos. "While we never run our business based on legislative assumptions, we are encouraged by the multi-faceted federal reform efforts surrounding cannabis, and although we remain confident in our ability to continue growing our business in the current environment, we will continue to position ourselves to capitalize on growth opportunities should any federal reforms materialize."