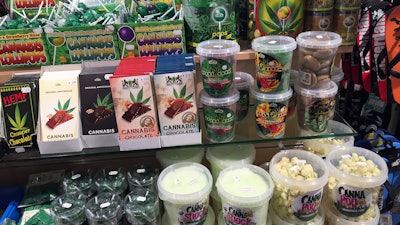 iStock
A group of consumer packaged goods companies and associations have sent a letter to Congress asking for a crackdown on copycat cannabis edibles that look a lot like existing products.
General Mills, PepsiCo, Kellogg Company, Post Consumer Brands, The Association for Dressings & Sauces and more signed the letter, which requests an amendment to the SHOP SAFE Act.
"Children are increasingly threatened by the unscrupulous use of famous brand logos, characters, trademarks and trade dress on THC-laced edible products. While cannabis (and incidental amounts of THC) may be legal in some states, the use of these famous marks, clearly without approval of the brand owners, on food products has created serious health and safety risks for consumers, particularly children, who cannot tell the difference between these brands' true products and copycat THC products that leverage the brand's fame for profit," the companies wrote.
The group has proposed changes to current laws that prohibit advertising, sales and distribution of goods with counterfeit marks. They asked Congress to amend the law to include famous marks, "a term already defined in U.S. code, to extend this protection and deter the sale of these copycat THC items which clearly 'implicate health and safety' of children."
A recent study led by researchers at NYU School of Global Public Health found that copycat cannabis edible products often contain levels of THC that exceed limits set by regulations.
"At first glance, most of the packages look almost exactly like familiar snacks. If these copycat cannabis products are not stored safely, there is the potential for accidental ingestion by children or adults," said Danielle Ompad, associate professor of epidemiology at NYU School of Global Public Health and the study's lead author.