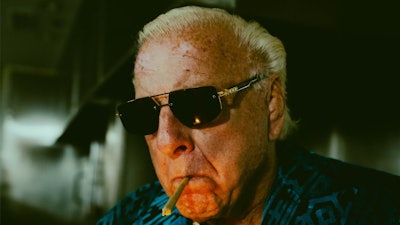 Ric Flair Drip Cannabis/Twitter
Tyson 2.0 announced the launch of its Ric Flair Drip Cannabis line in partnership with Verano Holdings, a multi-state cannabis company.
Verano is a vertically integrated operator of licensed cannabis cultivation, manufacturing and retail dispensaries under its Zen Leaf and MÜV banners, and develops and produces a suite of branded premium cannabis products, including Verano, Avexia, Encore and MÜV. Verano's active operations span 13 states, comprised of 109 dispensaries and 13 cultivation and processing facilities with more than one million square feet of cultivation capacity.
Earlier this year, Tyson 2.0 expanded its celebrity house of brands strategy with the acquisition of Ric Flair Drip, Inc. This strategic partnership enabled Tyson 2.0 to broaden its product suite with the ability to commercialize pro-wrestler Ric Flair's intellectual property within the cannabis space. With wide-consumer accessibility at the core of Tyson 2.0, the Ric Flair Drip Cannabis line offers cannabis products including flower, vape cartridges, edibles, and pre-rolls.
"WOOOOO! I'm so thrilled to bring Ric Flair Drip Cannabis products to Tyson 2.0 fans. Now, more people can get into the Ric Flair state of mind– limousine riding, jet-flying, good vibes only," said Flair. "I discovered the benefits of cannabis later in life and was overwhelmed by how much it has helped elevate the mind and heal the body. Alongside Tyson 2.0, I am committed to sharing these amazing benefits with as many consumers as possible."
Ric Flair Drip Cannabis is set to launch across Verano's network, with products initially planned to be available in 11 states starting with Arizona, Nevada and Illinois, followed by phased launches across Connecticut, Florida, Maryland, Massachusetts, New Jersey, Pennsylvania, Ohio and West Virginia.