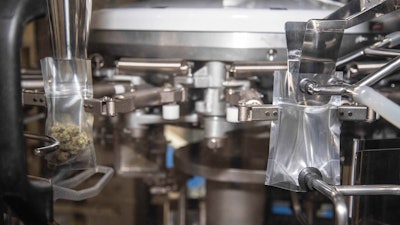 Massman Automation Designs
Massman Automation Designs (Vilard, MN) has been designing and manufacturing packaging equipment for more than 40 years. The company is also the exclusive North American distributor of pouch filling systems manufactured by General Packer Company, including the GP-M3000.
The GP-M3000 pouch filling system has recently caught the attention of cannabis flower packagers because of its precision pouch filling and handling. Features include:
The ability to automatically open, fill, close and seal pouches, including child-resistant heat seal closures.
The ability to handle both clear and printed pouches.
Precise alignment to assure that pouches get placed into the pouch clamps properly every time.
A rotary system that opens the pouch, prints the date and lot code and then shakes it using vibrators to settle the contents.
The ability to fill from 15 to 65 pouches per minute, depending on pouch size, product volume and filler used.
A heavy-duty stainless steel construction with a hygienic design for thorough cleanability.
The ability to automatically adjust feeding, opening, gripper width and pouch vibration as pouch sizes change -- this eliminaes the need for operators to make adjustments.
A heat-sealing unit with a 3-minute automated pouch size change capability.
Ten operational stages that include several "spare" steps that provide for future production expansion.
For more information, visit www.massmanllc.com.