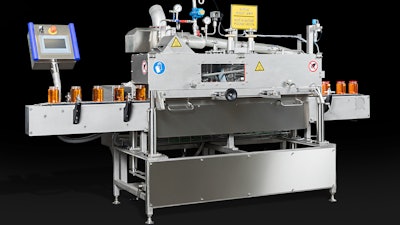 Silgan Equipment
Silgan Equipment (Waukegan, IL) has introduced the WC150, a compact capper designed for use by smaller filling operations or contract packagers. The WC150 features:
The ability to apply 27 to 110 mm regular and deep twist-off and press on (PT) caps on glass jars at rates of 100 to 150 per minute, depending on cap type and jar style.
The ability to work with jar heights of 50 to 285 mm and jar diameters from 40 to 140 mm.
Steam vacuum technology provides a tight hermetic cap seal.
A synchronized machine head and conveyor drive ensure smooth capping.
A compact 60.6" (L) x 63" (T) x 39" (W) footprint.
A stainless steel (VA, 316L) and acid-resistant plastic material construction.
A wash-down safe design.
For more information, visit www.silgancls.com or email [email protected].