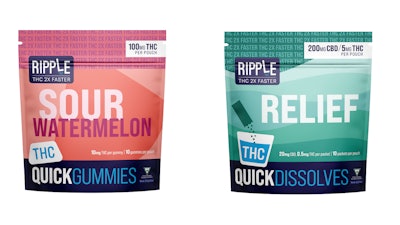 Ripple
Ripple is known in the Colorado market for its water-soluble cannabis powders and gummies brand. The company today announced an expansion in Michigan as part of its long-term multistate plan.
Ripple Michigan has a new 8,000-square-foot, multimillion-dollar cannabis manufacturing and processing facility in Lansing suburb Dimondale. For two of Ripple's three co-founders, Justin Singer, CEO, and Missy Bradley, VP of Marketing, who both grew up in the metro Detroit area, it's a homecoming.
"It's been our dream from the start to bring Ripple here," said Bradley. "We've been working diligently for the past seven years in Colorado to develop the best cannabis edibles on the market, and we could not be more excited to bring our products back home."
Ripple Michigan is launching with all three Ripple product lines for medical and recreational use:
Ripple QuickDissolves: Fast-acting, water-soluble powder that dissolves quickly and cleanly into any food or beverage.
Ripple QuickGummies: Gummies in various flavors and doses.
Ripple QuickSticks: A flavored powder.
The company has commitments from more than 150 dispensaries across the state.
Ripple Michigan will do its own processing. "We have always prided ourselves on being a food company working with cannabis, not a cannabis company playing with food," says Rachel Reed, director of sales and marketing.
Ripple Michigan has created more than 20 new jobs and hopes to soon add new positions.