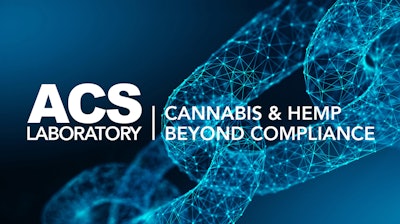 PRNewswire
ACS Labratory, a hemp and cannabis testing facility in the eastern U.S., has created a certificate of authenticity (COA) verification process in partnership with Blockticity. The platform allows any cannabis or hemp COA authenticated by Blockticity to be available for anyone to review for themselves in the blockchain.
This is ACS Laboratory's second phase of partnership with Blockticity, and the first COA version of its type, as there is currently no physical track and trace requirement for hemp-derived products.
In November 2021, ACS Laboratory began its partnership with Blockticity, in combination with 3Chi, to launch a national hemp client COA as a non-fungible token (NFT). Now, Blockticity has created an automated solution for the ACS Laboratory COA verification process for any inquires coming from:
Consumers and patients
Companies purchasing raw materials looking to fact-check the lab results
Law enforcement
Media inquiries
"This platform allows anyone viewing a COA to verify that COA's origin (the reporting lab), and confirm if the data points have been altered in any way," said Roger Brown, president of ACS Laboratory.
The most commonly altered data points on a COA include and are not limited to:
Disabling the QR Code
Changing the image of the product tested
Changing the date of the test
Changing the weight of the tested materials
Changing the potency results of the cannabinoids
Changing the results for residual solvents and heavy metals
By minting a COA into the blockchain coming directly from the lab or record, Blockticity authenticates the report from its truth source, the lab. When companies look up a COA, they can use the QR code to find that report owned by that company who paid the lab to perform the test.