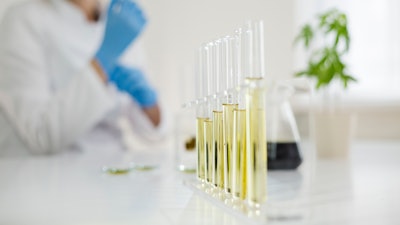 iStock
CBD was federally legalized in 2018 and business has been booming, but testing transparency hasn't necessarily been commonplace alongside the growth. CBD customers should be able to trust any given product's COA (Certificate of Analysis).
Because inaccurate test results can lead to serious consequences, Real Tested CBD is focused bringing transparency to consumers through reliable, unbiased, and accurate testing. To kickstart its call for industry reform, Real Tested CBD and KCA Labs will now be working together in the mission of to provide transparency in testing directly to CBD consumers.
"Our team at KCA was delighted to be chosen as Real Tested CBD's laboratory of choice. We believe our partnership will further our goals of helping our industry self-regulate, and providing high-quality products for consumers," said KCA Labs' Commercial Director, Ryan Bellone.
KCA Labs tests at a high standard and the accuracy provided in their test results makes it an ideal partner for Real Tested CBD. Together, the two have the potential to set the bar for reliable third-party testing and an improved industry standard for accurate and precise measurements.
KCA Labs has more than 100 years of combined analytical testing experience among its staff, including related industries such as tobacco, nutraceuticals, pharmaceuticals, anti-doping, and quality/regulatory certifications. All analysts have at least five years of experience and a minimum of a bachelor's degree. Additionally, KCA's Scientific Director, Dr. Richard A. Sams, has been an author or co-author of more than 140 peer-reviewed scientific publications and is on the editorial board for Cannabis Science and Technology Magazine.
KCA can analyze more than 50 different cannabinoids in a variety of matrix types. They utilize cannabinoid testing methods across multiple platforms, including HPLC-PDA, LC-MS/MS, and GC-MS/MS. KCA also performs regulatory testing for multiple states including Massachusetts, Pennsylvania, and New York.
Real Tested CBD and KCA Labs are both available for independent laboratory testing and education for companies and consumers of cannabinoids alike.