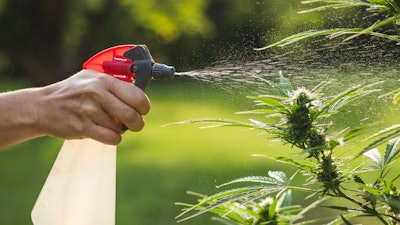 iStock
The Washington State Liquor and Cannabis Board (LCB) recently addressed concerns from cannabis licensees and labs regarding pesticide testing requirements, specifically deadline extensions and products that violate pesticide limits.
While the LCB has received requests to extend implementation deadlines, it remains committed to the deadlines established by WAC 314-55-102 (11) and defined in Policy Statement PS-22-01 that describes the "phase in" and "sell down" periods. Basically, all postharvest cannabis products produced before April 2, 2022 can be sold through September 30, 2022 without a certificate of analysis (COA). Retailers have until December 31, 2022 to sell the product. Any product sold after December 31, 2022, must have an accompanying COA.
The LCB has made the need for mandatory pesticide testing clear and intends to implement this safety improvement without delay. The LCB provided six months for the transition, the maximum amount of time it would consider for a transition period.
According to the LCB, all product harvested after April 02, 2022 needs be tested for pesticides. By extending the requirement beyond September, the LCB says it would bring an "unnecessary layer of complexity to the transition."
Since 2018, several stakeholders, including medical cannabis patients, consumers and licensees, urged the LCB to require cannabis producers and processors to test adult-use cannabis crops for pesticides.
According to the LCB, licensees have been aware of this interest for several years before the rule was made and adopted.
Rushing to Beat Testing
Washington state cannabis industry members have also expressed concerns to the LCB over some producers who are rushing products to retailers they know exceed authorized pesticide levels in order to beat the Sept. 30, 2022 testing deadline.
According to the LCB, if these accusations are true, they would be a violation of state rules as well as generally concerning to consumers, medical patients and the majority of producers who are following state regulations.
The LCB has safeguards to prevent product with unauthorized pesticides from entering the market as well as random and complaint-driven, post-market testing.
The three ways product is tested for pesticides include:
Random: Compliance consultants submit 75 samples per month for testing. This is harvested, shelf-stable product only. Product on shelves in retail stores is not tested because by the time the test comes back from the lab, the product would already be sold to customers.
Pesticide Investigations: LCB officers conduct targeted pesticide sampling when investigating complaints alleging use of unauthorized pesticides, or when an officer has reason to believe that a cannabis producer might be using unauthorized pesticides. Officers also perform follow-up investigations of producers who have failed randomized pesticide testing. Investigatory sampling involves a full sampling of a cannabis producer's inventory, which includes sampling plants as well as a cross-section of all harvested and processed material. Officers may also sample containers, and collect soil and water samples. These samples are secured as evidence and are sent to the Washington State Dept. of Agriculture (WSDA) laboratory for analysis. If a laboratory report indicates the presence of unauthorized pesticides that exceed the action levels prescribed in WAC 314-55-108, the cannabis associated with the sample is seized and destroyed to prevent it from entering the retail stores, or being diverted.
Quality Control Samples: These are the samples that are part of the new pesticide and heavy metal testing requirements. With the CCRS traceability system, Enforcement and Education Division staff can now see the QC failures in CCRS. The LCB has a practice in place in which we identify those licensees who are responsible for the majority of the failures and conduct a pesticide investigation at those locations.
Although testing requirements only recently become effective, the prohibition against using pesticides that are not on the PICOL list has been in place since the first producers were licensed in 2014.
The LCB says it will continue to be vigilant in looking for products that are potentially hot for pesticides.
Licensees who are found to be intentionally bypassing state regulations face product seizure and violations.
The LCB also released an FAQ on the new quality control rules and timelines.