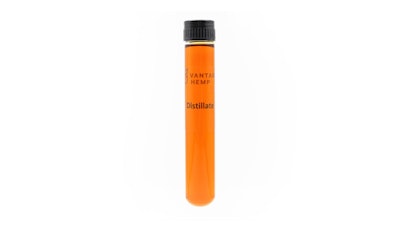 Vantage Hemp
Vantage Hemp announces that it has submitted a Drug Master File (DMF) for its cannabidiol (CBD) Isolate to the FDA. The submission is an essential step in providing the FDA with the necessary information to help facilitate the development of safe and effective CBD products. The company establishes itself as a transparent and reliable partner to both clients and regulatory bodies through this engagement.
Vantage is a globally accredited plant-based extractor and manufacturer, built and operated to WHO GMP, FDA 21 CFR 210/211, and ICH Q7 standards. The company's DMF contains detailed information about its processes, controls, and analytical methods used in the manufacturing, processing, packaging, and storing of its CBD Isolate, which is a highly purified, versatile form of CBD with many novel product applications. This information will be made available to the FDA to assist in their review of drug applications that contain Vantage's CBD Isolate as an active pharmaceutical ingredient (API).
"Drug Master Files move the CBD industry forward with professionalism and legitimacy," says Deepank Utkhede, Vantage's Chief Operating Officer. "This is a significant milestone for our company. We believe that a commitment to consistency, quality, and cGMP compliance will help pave the way for greater regulatory clarity in the industry."
Coming from a variety of GMP-regulated industries, Vantage and its leadership have been at the forefront of the hemp industry since the Company's inception in 2019, focusing on the production of pharmaceutical-grade, hemp-derived extracts and finished products. With the production capacity to meet the commercial needs of any client, Vantage has built a diversified, domestic and global partnership base. The company has demonstrated industry leadership and innovation on multiple occasions, including its submission of another DMF for CBD Distillate (DMF #036876) in April 2022. Vantage's submission of CBD Isolate reinforces its dedication to meeting the highest standards of quality and safety in all aspects of its business.