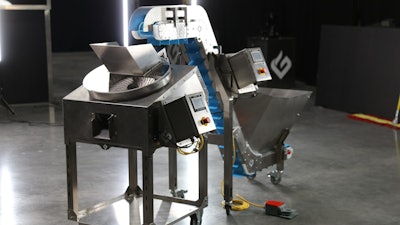 GreenBroz
GreenBroz unveils the latest enhancement to its M+ Trimming System – what it's calling the world's first fully automated cannabis trimmer with advanced data reporting capabilities. The M+ System now provides cultivators with valuable data, enabling insights, precise tracking, and enhanced control over their trimming operations.
The M+ Trimming System now boasts the capability to load, cycle, and unload itself, optimizing the entire trimming process. With the introduction of data reporting, GreenBroz elevates the M+ System that will further streamline the growers work and use data to make better decisions and products.
The M+ has been designed to meet the demands of modern cannabis and hemp cultivators. By combining intelligent controls to automate the movement of cannabis through the machine with data tracking, it allows cultivators to:
Streamline the trimming process with true hands-free operation, eliminating touchpoints.
Adjust the trim to flower ratio in real-time for consistent and quality products.
Review total trim production records and plan for future demand and waste reduction.
Measure trim time and enhance efficiency without compromising product integrity.
Analyze total trimmed flower production for informed decisions and business growth.
For an enhanced experience, GreenBroz M+ reporting can be shared via email notifications, database entries, and central control station updates, providing users with convenient access to critical data in their preferred format.