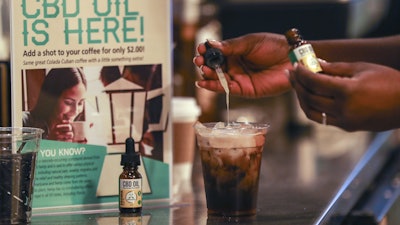 Jennifer Lett/South Florida Sun-Sentinel via AP, File
The U.S. CBD market will break the $3 billion mark in 2023, new CBD-Intel market data modeling predicts, with massive growth stemming from anticipated regulatory changes.
CBD-intel predicts U.S. Food and Drug Administration rules providing a federal path to market are only likely to be developed later this year at the earliest, with a subsequent delay in market value realization. As a result food, drink and supplement products such as CBD oils, capsules and edibles will likely be hampered through 2021 and 2022 before fully coming into their own in 2023.
However, as that happens the market will also witness a transition within the foods and supplements CBD product categories – switching from dominance by oil products to a capsule-led market.
This change will be spurred by ease of use and accurate dosing becoming more important as CBD is established as a standard health and wellness product for an increasing number of consumers.
CBD-Intel believes capsules, with their standard dosing, instruction-free use and inoffensive profile, will overtake cumbersome and potentially unpleasant oils as the most popular product category with CBD consumers in the U.S. and other markets.
CBD-Intel also predicts that topicals and cosmetics will continue to forge ahead, reaching $650 million and $600 million in the U.S. by 2024.
Nate Erskine, CBD-Intel head market analyst, said: "Expect the rise of capsules and the continued success of the cosmetics and topicals categories to be the dominant market overview headlines for the next few years. Continued pressure on edibles, coupled with growing interest from sports and beauty applications, will help to fuel the continued rise of topicals as well as cosmetics, while companies will start to embrace capsules more and more as they seek to attract more of the hump of never-use CBD consumers to try products for the first time.
"Continued ease of use, combined with attractive pricing, will help convert those first-timers into regular users – though those who take CBD on a daily basis for health and wellness benefits may only move around within the capsule category and not move to try other product types."
CBD-Intel's accurate and substantiated predictions, guided by in-house survey, pricing and other market data, are based on a realistic methodology that delivers answers closer to reality than the pie-in-the-sky numbers produced by lesser CBD market intelligence outfits. Numbers will be updated twice a year to reflect the latest developments.
CBD-Intel provides impartial, independent and premium market and regulatory analysis, legal tracking, and quantitative data for the cannabidiol (CBD) sectors worldwide.