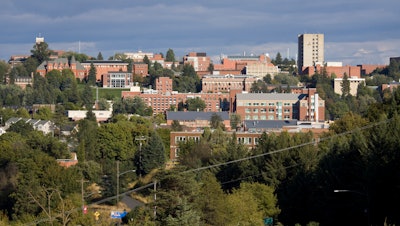 iStock
PULLMAN, Wash. – Washington State University's early efforts on cannabis research have now grown into a full, multi-disciplinary research center with nearly 100 scientists working on a diverse range of cannabis-related projects.
The newly christened Center for Cannabis Policy, Research and Outreach, or CCPRO, was officially approved by the WSU Faculty Senate and Board of Regents in May. WSU started organizing spearheading research into cannabis in 2011, even before Washington state became the first in the U.S. to legalize recreational marijuana the following year. The formal designation as a research center signifies its importance and WSU's commitment as the state's land-grant university to critically needed scientific understanding of the growing industry.
"WSU is one of the leading universities in the country on cannabis research," said Michael McDonell, CCPRO director and professor at the Elson S. Floyd College of Medicine. "The center status recognizes our researchers' outstanding, multi-disciplinary scholarship on cannabis. It also brings together under one center work on everything from research focused on the impact of cannabis on development to scholarship on cannabis and public safety, as well as our growing hemp research."
In the last six years, WSU researchers have engaged in 50 projects with nearly $10 million in funding.
Recent projects include an exploration of behavioral and biological predictors of problematic cannabis use that was recently awarded a $400,000 National Institute on Drug Abuse grant. It uses a novel animal model of cannabis vapor administration developed by a research team led by Associate Professor Ryan McLaughlin.
Center researchers have also been studying how Washington's 2012 law legalizing cannabis has impacted law enforcement, and Professor Emeritus and former CCPRO director Nick Lovrich is now taking the lessons learned from Washington officers to a national law enforcement conference.
WSU's CCPRO is engaged in a number of collaborations and recently joined Oregon State University and University of California Davis in a West Coast effort to improve hemp germplasm—the seeds and genetic material needed to grow better crops of hemp for industrial purposes and as a source of cannabidiol the non-psychoactive essential oil also known as CBD. Led by Professor David Gang, the WSU team is starting trial efforts by planting hemp seed near the WSU Prosser Irrigated Agriculture Research and Extension Center facility in May and June.
CCPRO has also partnered with the Puyallup Tribe in a study at their Qwibil Natural Healing and Research Center on the use of medicinal marijuana for pain management. Another promising partnership between WSU and Biopharmaceutical Research Company has opened new possibilities for research as the pharmaceutical company recently became one of first companies to get federal approval to grow cannabis for research purposes.
Studying THC-containing cannabis, also called marijuana, remains challenging because of its continuing federal status as a Schedule 1 drug, which despite state legalization constrains how the plant can be possessed and studied in the lab, but McDonell still sees a lot of opportunities in the future.
"We're seeing some of these barriers to research being lifted in a stepwise way," he said. "It will help us work to keep up with the cannabis industry to provide the citizens of Washington with the information they need to make informed decisions about their health and cannabis."