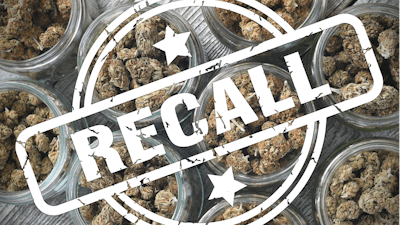 UPDATE: This article has been updated with a response from the Marijuana Enforcement Division.
The Colorado Department of Revenue's (DOR) Marijuana Enforcement Division yesterday issued a health and safety advisory due to potentially unsafe levels of mold and total yeast in medical cannabis flower produced by Canna Meds Wellness Center.
The DOR, in conjunction with the Colorado Department of Public Health and Environment, has deemed the flower a threat to public health and safety.
According to the DOR, the flower from Harvest Batches produced by Canna Meds contained levels of contaminants above acceptable limits for yeast and mold, or was not properly submitted for testing.
Based on inventory tracking system data, the batches were sold between May 2, 2021, and April 6, 2022, at two Canna Meds locations in Colorado Springs.
Consumers are advised to destroy the product or return it to the dispensary for proper disposal. Anyone who has experienced adverse health effects from consuming the product should seek medical attention immediately, report the event to the retail outlet and report the event to the Marijuana Enforcement Division by submitting an MED Reporting Form.
According to the MED, the label produced by Canna Med didn't specify the store where the cannabis was purchased or list a harvest batch. As a result, any flower (buds, shake, pre-rolled marijuana) purchased from Canna Meds Wellness Center at 506 North Chelton Road and 2218 North Academy Place should be considered to be contaminated.
In a statement, a Canna Meds spokesperson said, "It was old product from last year and the growers we fired are reporting it. All products sold have passed testing."
In response, Shannon Gray, DOR marijuana communications specialist said, "The MED issues a Health and Safety Advisory (HSA) when it confirms that marijuana that poses a potential threat to public health has been sold to consumers. We determine whether contaminated marijuana poses a threat to public health in consultation with the Colorado Department of Public Health and Environment and use a variety of information, primarily including failed testing results, to make that determination. As stated in the HSA, contaminated marijuana was sold at Canna Meds stores between May 2, 2021 and April 6, 2022. We cannot share any further additional information due to an ongoing investigation."