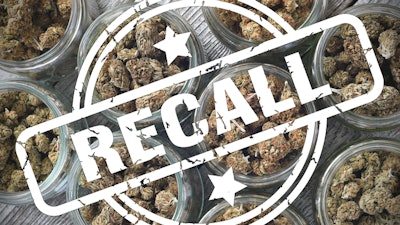 In April, the Colorado Department of Revenue (DOR), in conjunction with the Colorado Department of Public Health and Environment (CDPHE), issued a health and safety advisory after finding unsafe levels of total yeast and mold contamination in retail cannabis flower produced by Fresh Baked.
On Friday, the state's Marijuana Enforcement Division (MED) issued an expanded health and safety advisory after identifying additional potential contamination.
According to the MED, an investigation found untested or improperly tested harvest batches of cannabis dating back to July 14, 2021, that contained levels of microbial contaminants above acceptable limits. The thresholds are established in Colorado Marijuana Rule 4‐115.
As a result, the CDPHE and MED have expanded the health and safety advisory issued on April 20, 2022, to include all retail marijuana produced by this licensee before February 25, 2022, to be a potential threat to public health and safety.
Read the updated advisory here.
Customers should return any affected products to the retail location where it was purchased for proper disposal. Consumers who experience adverse health effects from consuming the product should seek medical attention immediately, report the event to the store from which they purchased the product and report the event to the MED by submitting an MED reporting form.
Fresh Baked has not yet responded to our request for comment.