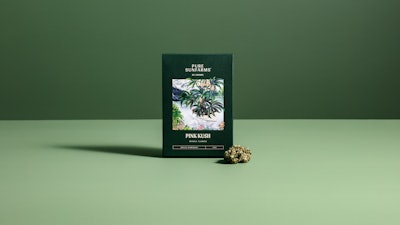 Pure Sunfarms
Pure Sunfarms claimed that its Pink Kush dried flower has achieved record level performance, maintaining its spot as the all-time, top-selling dried flower strain in Ontario.
The company calculated the numbers based on sales information from the Ontario Cannabis Store (OCS), one of the only legal online retailers for recreational cannabis in Ontario.
Originally offered by Pure Sunfarms in June 2020, Pink Kush represents nearly 6 per ent market share since its launch in the dried flower category at the OCS, outperforming the second ranked strain three to one. In August, Pure Sunfarms brand continued to lead dried flower sales at the OCS, accounting for over 13 percent of sales in the category, with Pink Kush leading the category at 7 percent market share.
"It's energizing to see how well our Pink Kush has been and continues to be received in the market. It is the number one choice for cannabis consumers in Ontario," said Mandesh Dosanjh, President & CEO, Pure Sunfarms. "We are intentional about cultivation at Pure Sunfarms – our growers really know how to bring the best out of our Pink Kush."