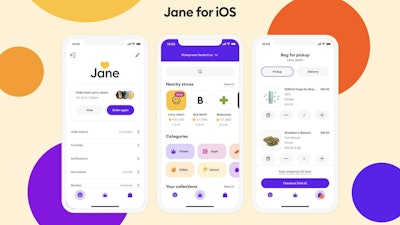 Jane
Jane Technologies announced the launch of its new iOS app today. The Jane app enables users to discover cannabis products based on local inventory, verified reviews, feelings and effects, and personalized recommendations.
Collections, Jane's personalization feature within the app, help users discover new brands and products through recommendations based on activity, reviews and user interests–similar to how Spotify personalizes a playlist or Airbnb recommends an experience. Jane's Collections include curated lists for everything from sleeping to socializing.
For cannabis retailers, Jane features customizable store pages allowing dispensaries to manage their storefront within the app, so users can shop real-time menus and schedule a delivery or pickup. For the past five years, Jane's platform has enabled retailers to digitize their live product inventory and reach new local customers online. The app provides customers with the convenience of online shopping while driving more traffic to nearby retailers – at no additional cost to the customer or retailer.
"The [app] design celebrates cannabis products, brands and retailers while optimizing the shopping experience and prioritizing customer needs with Collections and effect-based shopping," said Jared Marr, VP of Design at Jane. "The consumer-first UI is simple yet efficient, reframing cannabis shopping to be approachable and common like ordering lunch for delivery or pickup. The app positions Jane to shepherd the cannabis industry into the future, encouraging mainstream access and serving as the connective bridge for consumers, retailers and brands."