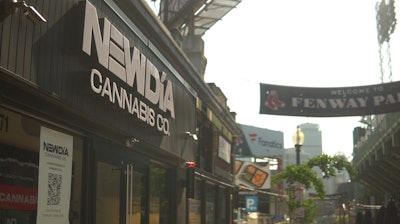 New Dia Cannabis Co.
TILT Holdings is opening what it's call the East Coast's first and only cannabis mall, New Dia, on July 22, 2023.
The festivities include a Mario Kart tournament on a 14-foot LED screen sponsored by LC Square, custom on-site t-shirt printing from Greencare Collective, an appearance by 98.5 The Sports Hub, opportunities to win tickets to neighborhood concerts and ball games, swag giveaways, music, food and more.
Immediately following the ribbon-cutting ceremony, consumers are invited into a new 11,200 square-foot cannabis retail & shopping experience with six mall-style kiosks with its partners, including TILT Holdings, Greencare Collective, LC Square, Nimbus Cannabis, Pioneer Valley Cannabis, and Chill Medicated.
"Like with any cannabis business, getting our doors open has been a long and challenging road, so we couldn't be happier to celebrate our grand opening with the Boston community," said Ross Bradshaw, CEO of New Dia. "The buzz has been building, and the positive reception from neighboring businesses and people in the Fenway area has been encouraging. We're ready to carve out our own piece of history on Lansdowne St, and with our cannabis mall concept, we're looking forward to exploring all the possibilities to come. Our space will not only offer a wide range of high-quality products but will also serve as a hub for community engagement and education; an interactive space to connect with like-minded individuals who share our same values."
"New Dia centers its responsibility towards its community and diversity, which is why as a cannabis operator with high-quality and diverse brands from diverse founders, TILT Holdings can help bring their mall to life," said TILT Holdings interim Chief Executive Officer Tim Conder. "Opening a dispensary is no small feat, especially in the Commonwealth directly across from Fenway Park. Game day at Fenway, and concert nights in the music-rich area, will never be the same again."
Bradshaw continued, "We are not just selling cannabis; we are building a community – a movement based on collaboration that celebrates diversity, economic empowerment, and progressive cannabis culture. With neighbors like House of Blues Boston, the MGM Music Hall at Fenway, and the cathedral of Boston, we know legal cannabis is officially now in the big leagues, and New Dia is proud to be a steward in the new status quo."