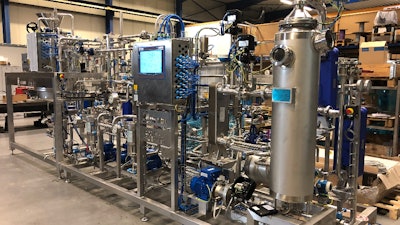 Root Sciences
For those new to the cannabis industry, selecting equipment can be complicated with many options on the market today.
Root Sciences has first-hand experience in cannabis cultivation, extraction, distillation, and post-processing, providing clients with tailored end-to-end equipment solutions. When deciding what kind of extraction equipment is right for your operation, you have a variety of technologies and options to meet unique demands. Here are a few things to consider with each technology.
Hydrocarbon Extraction
Hydrocarbon extraction is a widely used cannabis extraction method. Popular choices include propane and butane. However, these processes require special handling in a Class 1, Division 1 (C1D1) environment.
For craft producers, hydrocarbon extraction is often one of the most economical choices. It's commonly used to produce popular products for dabbing or vaping, including live resin, badder/batter, diamonds and sauce.
When comparing hydrocarbon to other methods of extraction, which yield a desirable terpene-rich concentrate, hydrocarbon extraction leads the pack in creating products intended to be vaporized or dabbed.
Hydrocarbon extraction also provides the versatility for creating a high-quality crude oil, which can be further processed into several other marketable products, including distillate, vape cartridges, edibles, cannabis-infused beverages and more.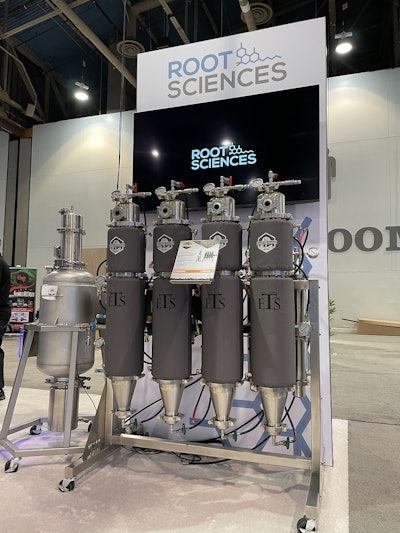 Ethanol Extraction
Ethanol extraction uses high-proof ethanol alcohol (EtOH) as a solvent to extract cannabinoids from cannabis biomass. Ethanol extraction is ideal for producers that want to manufacture hemp or cannabis crude oil at larger scales, including commercial or industrial production.
Due to its scalability and ease of access to solvent internationally, ethanol extraction is the ideal solution to meet the demands of mass production.
Ethanol extraction is also suitable for growing organizations. Without committing to a large throughput upfront, ethanol extraction allows for the opportunity to expand your operation as your company's production requirements increase.
Ethanol extraction lends itself to creating crude for wholesale, as well as creating end products, like pharmaceuticals, in addition to bulk distillate, edibles and topicals.
Ethanol extraction is the most common extraction method for existing pharmaceutical and GMP applications.
Root Sciences offers two series of ethanol extractors, including a GMP pharmaceutical grade solution. The extractors provide a pharmaceutical-grade, all-in-one solution for extraction, in-line filtration, solvent recovery, and decarboxylation of the concentrate.
With available features such as integrated Clean In Place (CIP) capabilities, automated valves, batch records, production data logging, and individual operator access settings, the series provides a GMP ethanol extraction solution tailored to unique requirements of the end-user.
The system has been implemented and certified in Europe with EU GMP certification, with active systems producing regulated exported cannabis products. In addition, the series satisfies CE & ATEX requirements in Europe and UL requirements for the United States, where the systems are also independently peer-reviewed and recognized as safe when installed as directed in all states.
Cold Ethanol Extraction
Cold ethanol extraction refers to extractions performed at or below -40 degrees Celsius.
Extracting at low temperatures mitigates the amount of lipids, fats, chlorophyll and sugars extracted from the biomass along with the targeted cannabinoids. Operators benefit by bypassing additional filtration and winterization following the concentrate production, which is commonly associated with warm ethanol extraction.
The process also reduces the number of post-processing procedures required following extraction, ultimately resulting in lower labor and materials costs.
Terpene Extraction
Historically, ethanol extraction has been associated with losses of desirable terpenes. However, Root Sciences has developed a solution in partnership with Tandem Technologies.
Terpenes are harvested directly from the biomass under vacuum prior to cannabinoid extraction. This provides the opportunity for reintroducing genuine cannabis-derived terpenes into end-products, regardless of the method of cannabinoid extraction.
Products with reintroduced cannabis terpenes keep pace with the trend of consumers moving away from artificial flavorings and 'botanical' terpenes, preferring to experience the nuances of individual cannabis strains and their corresponding terpene profiles.
Distillation, Post-Processing & Nanoemulsification
After extraction, post-processing applications include distillation, nanoemulsification and cannabinoid isolate production.
Distillation is the process of further refining concentrate or crude oil into distillate. Typically, processors use short-path wiped-film distillation.
Wiped-film distillation allows operators to create a clear, golden distillate with a high percentage of cannabinoids, which are then processed into various consumer products.
Root Sciences is the exclusive distributor of VTA distillation plants for cannabis and hemp applications. VTA is a German manufacturer of distillation equipment with more than 30 years of experience.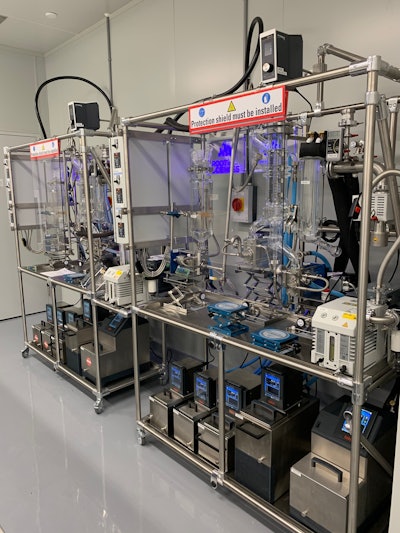 Following distillation, additional post-processing equipment is available, including nanoemulsification equipment. Nanoemulsification creates cannabis products, like beverages or water-soluble powders for infused drinks.
Root Sciences represents equipment manufactured by GEA of Italy. GEA has 70 years of experience producing high-pressure homogenization equipment, most notably in the food and dairy industry.
Nanoemulsification can also be used to create edibles, which are more readily absorbed by the body, resulting in a quicker onset of the desired effect. Pharmaceutical, nutraceutical and consumer packaged goods (CPG) applications benefit from enhanced drug-delivery systems, such as nanoemulsification.