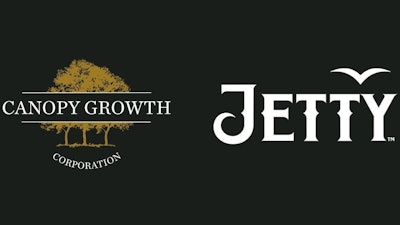 Canopy Growth and Lemurian (Jetty), a California-based producer of cannabis extracts and vape technology, today announced definitive agreements providing Canopy Growth, by way of a wholly-owned subsidiary, the right to acquire, upon federal permissibility of THC in the U.S. or earlier at Canopy Growth's election, up to 100% of the outstanding capital stock of Jetty.
Founded in 2013, Jetty is a top ten cannabis brand in California, and a top five brand in the vape category. As a leader in solventless vape and a pioneer of extraction-related intellectual property (IP), Jetty has achieved strong growth over the past two years while generating positive EBITDA amidst the highly competitive California cannabis market.
The deal gives Jetty access to Canopy's U.S. THC portfolio, which includes the right to acquire both Acreage Holdings and Wana Brands, as well as a significant conditional ownership interest in TerrAscend. The two companies are also exploring avenues through which Jetty could bring the brand and its innovative product line up to the Canadian recreational market.
Jetty is the market share leader in solventless vapes, holding more than 75% share of the California market, according to BDSA, with monthly sales growing by more than 45% from February to March 2022.
Jetty has developed industry-leading extraction and clean vape technology capabilities. As one of the first brands to bring to market a vape free of fillers and cutting agents, the company has built on that legacy with the 2021 launch of its solventless vape and concentrate collection, made from just ice, water, heat and pressure. Their products have received critical acclaim winning Best Vape at the 2021 Cannabis Cup.
Jetty is a beloved California brand and the acquisition would give Canopy a critical position in the largest and most historically significant THC market in the U.S. Jetty's established presence as the fifth largest vape brand in the California market is supported by nine years of operations and serving cannabis consumers with unrefined live resin, high THC distillate vapes, infused pre-rolled joints and solventless vape products.
Ron Gershoni, co-founder and CEO of Jetty, plans to stay with the company along with founding members Nate Ferguson and Rob Ferguson.
Canopy will make aggregate upfront payments of approximately $69 million payable through a combination of cash and Canopy Growth common shares, a majority of which will be Canopy Growth common shares, in exchange for approximately 75% of the equity interests in Jetty, subject to certain adjustments.
Until Canopy elects to exercise its rights to acquire Jetty, both companies will continue to operate independently of one another.