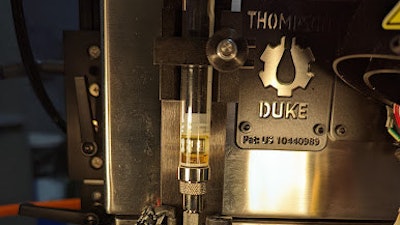 Thompson Duke
Thompson Duke Industrial, a provider of cannabis oil vaporizer device filling and capping equipment, said it reached a milestone with the completion of its 1,000th MCF1 semi-automatic vaporizer filling machine. The MCF1 has the capability to fill as many as 5,000 vaporizer cartridges per day. With 1,000 machines now deployed in the industry, the MCF1 could potentially fill over one billion vaporizer cartridges each year.
Based in Portland, Oregon, Thompson Duke Industrial designs, manufactures and distributes a line of patented, GMP-ready filling and capping machines specifically designed for cannabis vaporizer devices. The MCF1 is Thompson Duke's semi-automatic filling machine, designed to fill almost any oil vaporizer device available on the market.
"Hitting this milestone shows that there is an increasing need for efficiency and automation in the cannabis industry, and our growth as a company is directly tied to this demand," said Chris Gardella, Chief Technology Officer for Thompson Duke Industrial. "The ability to quickly adjust dispense volume, fill both high and low viscosity oils, rapidly switch oil formulations, and easily setup and clean the machine are all intentional design decisions behind the MCF1 that allow our clients to operate with extreme accuracy, precision and repeatability."