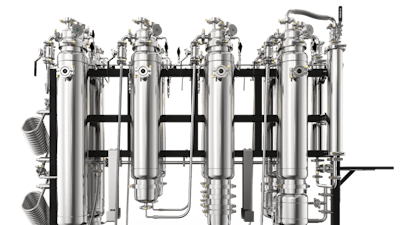 Agrify
Agrify today announced that its recently launched PX10 hydrocarbon cannabis extractor will soon be installed at three customer facilities, including through a new engagement with Alchemist Ventures in Maryland.
The PX10 hydrocarbon cannabis extractor is the latest breakthrough from Agrify demonstrating the company's continued emphasis on developing, commercializing, and deploying solutions across both cultivation and extraction. The PX10 was officially unveiled in August to provide customers the most advanced and scalable hydrocarbon extraction technology. The PX10's unique passive recovery design was engineered with simplicity in mind and is expected to offer immediate economic benefits to cannabis operators of any size, including twice the potential capacity and output of its predecessor, the PX5. The PX10 ultimately represents an ideal way for customers to enter a desired market quickly and at scale, and it also serves as a compelling upgrade opportunity for PX5 customers who want to drastically boost capacity in a cost-effective manner without any significant infrastructure changes.
As per the terms of the purchase agreement with Alchemist, Agrify will be providing a full suite of extraction and post-processing equipment along with specialized training services to support this new customer's vision for its extraction business. In order to capitalize on the attractive Maryland market, especially with the strong possibility that Maryland voters will support a ballot measure this month that would legalize adult-use cannabis, Alchemist will be outfitting its facility with the PX10 hydrocarbon extractor, as well as post-processing equipment such as vacuum ovens and bead baths, a short path distillation system, and a commercial washing system for solventless extraction. With all of this equipment and technology, Alchemist intends to bring a variety of high-quality extracts to the rapidly growing Maryland market.