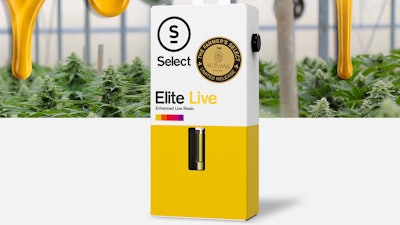 Curaleaf
Curaleaf announced that its third "The Farmer's Select" product collaboration is now available across California in partnership with Autumn Brands, a woman-and-family-owned farm located on the coast of Santa Barbara County.
Autumn Brands cannabis is grown using sustainable farming techniques, natural sunlight and 100% no-spray cultivation. Using a closed-loop watering system, Autumn Brands ensures that no water is wasted during the growing process and all organic waste is composted.
Select's latest collaboration transforms Autumn Brands' limited-batch cannabis flower into Select Elite Live Oil that customers. The limited-edition product line is now available at dispensaries across California in three strains including Jetlato (sativa), Pineapple MAC (hybrid) and Banana Jelly (indica).
Formally launched in July 2022, The Farmer's Select program is an ongoing series of limited-edition collaborations with craft farmers and diverse operators in California. The program reflects Curaleaf's commitment to providing premium products to consumers while uplifting smaller operators across the Golden State. Select previously partnered with Sonoma Hills Farm in April 2022 and Delighted Farms in July 2022 – both limited-edition product lines sold out in less than two weeks.